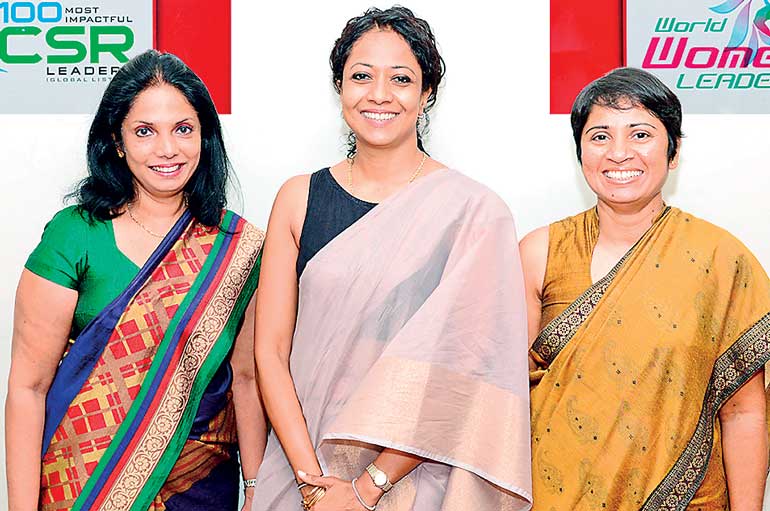 From left: Hemas Group Sustainability and Corporate Communications Head Shiromi Masakorala, Hemas Group Transportation Sector Managing Director Kasturi Wilson and Hemas Hospitals Chain Group Medical Director Dr. Samanthi De Silva
The recently-concluded third World Women Leadership Congress and World CSR Congress in Mumbai, recognised the top women leaders at Hemas for their outstanding leadership and achievements at an international level.

Kasturi Wilson, Managing Director Hemas Group Transportation sector was awarded the prestigious 'Outstanding Women Leadership Achievement Award' for her outstanding leadership and professionalism.

Kasturi counts for over 26 years of managerial experience in multiple industries and functions spanning auditing, consulting, logistics, leisure and travel. Kasturi joined Hemas in 2002 as the Finance Director of Hemtours (currently Diethelm Travels). In 2005 she was appointed the Head of Shared Services for the Group and subsequently the Chief Process Officer of the Group in 2007. In 2011 Wilson took up the position of Managing Director of the Transportation Sector. Kasturi is also a board member of CIMA and ranked in the 50 most powerful women in Sri Lanka.

Dr. Samanthi De Silva was awarded Women Leadership Achievement Award for the distinct innovations and initiatives introduced by her at Hemas Hospitals, the first hospital in Sri Lanka to obtain International Accreditation.

Dr. Samanthi joined Hemas Hospitals as the Head of Medical Services in 2008 and currently serves as the Group Medical Director of Hemas Hospitals chain. She holds a MBA in Health Care Services (Mannipal) and is a strong advocate in improving health quality standards in the country. She is being groomed as an international surveyor for Australian council health standards International and also serves as the Honorary Treasurer of the Sri Lanka Medical Association.

The World Women Leadership Congress (WWLC) recognizes women leaders with vision, flair, acumen and professionalism to demonstrate their excellent leadership and management skills in the organisation, making changes and achieving results. The WWLC honored the strategic and influential role of various women leaders in the development of the modern economy, technology, and administrative methodologies that promotes the advancement of the government and business organisation according to the standards of global competitiveness.

Ms. Shiromi Masakorala was recognised among the top 100 Most Impactful CSR Leaders (Global Listing) for Strategic Perspective and Building Collaborative Relationships, Personal Credibility, Integrity and Ethics, Innovative Sustainable Solutions, Incorporating Ethical Values and Involvement in Communities and Protection of the Environment. Shiromi is the Head of Group Sustainability and Corporate Communications, Hemas Holdings PLC and Executive Director of the Hemas Outreach Foundation.

The Hemas CSR initiative Piywara was launched by her in 2002 with the Ministry of Women and Child Affairs, and to date has won many local and international awards. On the World Children's Day celebrated on 1 October 2015, the Ministry of Women and Child Affairs conferred a national award to her in recognition of her contribution towards early childhood development in Sri Lanka through the Piyawara program.

"We are delighted with the achievement of our women leaders. At Hemas we believe in empowering women and giving them the opportunity to shine. We believe this achievement will inspire our staff and spur more women in our organisation to forge ahead," said Dimuth De Alwis, Director HR, Hemas Group.

The Hemas Group is one of the leading conglomerates in Sri Lanka with a focus on four key sectors, namely Fast Moving Consumer Goods (FMCG), Healthcare, Transportation, and Leisure.