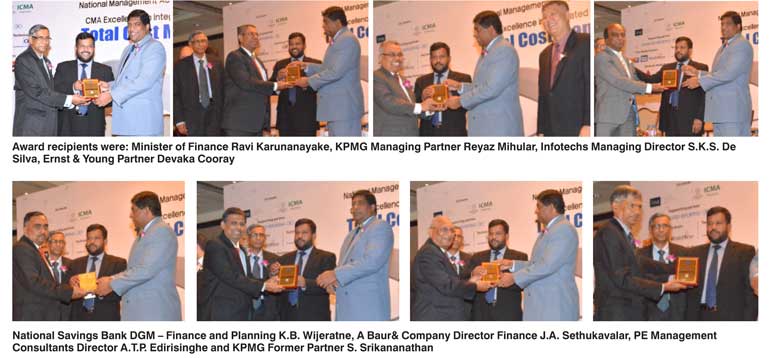 CMA Professional Excellence Awards were presented to several top accounting professionals who have contributed to the accounting profession and excelled in their professional and business career. The awards were presented at the inauguration of the CMA National Management Accounting Conference 2016 held on 11 July.

Ravi Karunanayake who is a patron of CMA Sri Lanka and a Fellow Member of the Institute of Certified Management Accountants of Sri Lanka and who has excelled in his career in business and politics and currently the Minister of Finance was the recipient of the CMA Professional Excellence Award. The other recipients were H.M.G. Wijesinghe (Auditor General), Reyaz Mihular (Managing Partner – KPMG), S.K.S. De Silva (Managing Director – Infotechs Ltd.), Devaka Cooray (Partner –Ernst & Young), K.B. Wijeratne (DGM – Finance and Planning – National Savings Bank), J.A. Sethukavalar (Director Finance – A Baur& Company Ltd.) A.T.P. Edirisinghe (Director – PE Management Consultants Ltd., S. Srikananathan (Former Partner – KPMG) and Sujeewa Rajapaksha (Managing Partner – BDO Partner).

The awards were presented by the Chief Guest Minister of Industry and Commerce Rishad Bathiudeen and CMA President Prof. Lakshman R. Watawala, in the distinguished presence of ICMA Pakistan President Muhammad Iqbal Ghori, National University of Singapore Head of Department of Accounting Prof. Ho Yew Kee, University of Cape Town Associate Professor and Head – College of Accounting Prof. Mark Graham, CMA Vice President Basheer Ismail and Lanka IOCMD Shyam Bohra.

The conference was held from 11-13 July on the theme 'Total Cost Management – Key Enabler of Economic Development'.