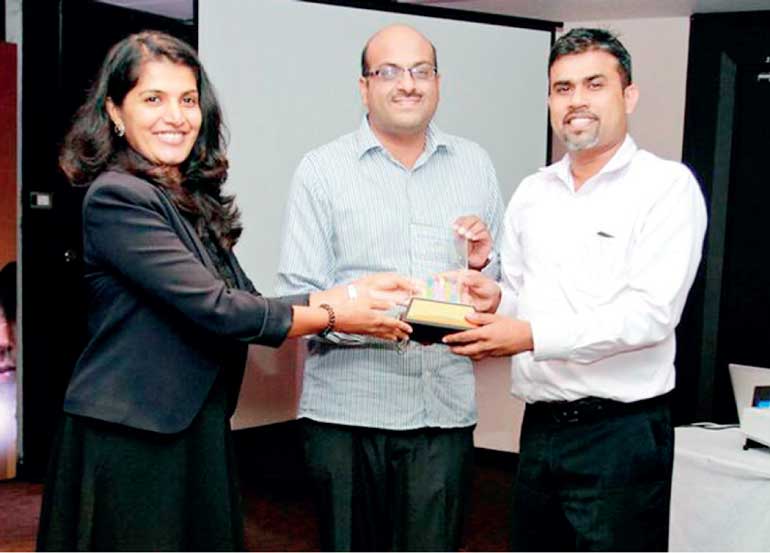 Uditha Gamage receiving the award from Kalhari Kaluarachchi and Anand Rao
Cementing their status as the best higher education institute in Sri Lanka, SLIIT was adjudged 'Academy of the Year for 2015', in recognition of the overall contribution and commitment to the Cisco Networking Academy program at the recently concluded Cisco Networking Academy Conference Awards Night. The SLIIT Cisco Networking Academy was also named as the'Best Performing CCNA Academy of the Year 2015' in recognition of the contribution made to the CCNA program.

Cisco Networking Academy has been partnering with education institutions, instructors and students for more than 15 years to build and shape the future workforce of Sri Lanka. SLIIT is the first institute in Sri Lanka to establish a partnership with CISCO, the world leader in computer networking. SLIIT was also the first CISCO networking academy in Sri Lanka.

Thanking the CISCO Instructors for their continuous support, Cisco Legal Main Contact/Head ITSD of SLIIT Uditha Gamage said, "While SLIIT is a partner of CISCO, it acts as the Cisco Academy to train students and is also the established Cisco Instructor Training Center for the training of Cisco Academy instructors. In 2013, SLIIT was also granted the role of being the 'Cisco Academy Support Center (ASC) for Sri Lanka and Maldives' to ensure and maintain the high quality of the program at all Cisco academies".

"This award shows our commitment towards uplifting and providing students with the opportunity to join a world team of networking professionals. The CCNA program educates students on the skills needed to design, build and maintain small to medium sized networks" commented, SLIIT President and CEO Professor Lalith Gamage.

While continuing this fruitful partnership with SLIIT, Cisco continues to support local initiatives aimed at enhancing employability for students in the IT domain.