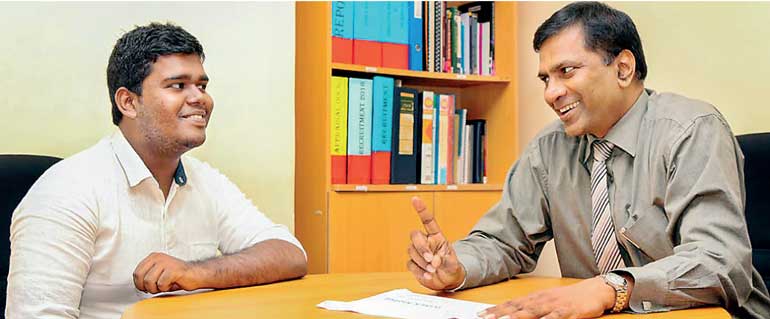 Sandul Chandradasa from American College of Higher Education recently became the latest Sri Lankan to be transferred to Montana State University in Bozeman USA by Scholarships for USA Ltd.

Sandul plans to major in Biotechnology. SUSA introduced MSU to Sri Lanka in '07 and since then have placed many stars in Bozeman who has done commendably well. SUSA specialises in connecting Lankan students with most affordable colleges and universities in North America and since '01 has placed over 300 students in many schools across US.

On the eve of his departure Sandul was introduced to Janaka Kumarasinghe Director of Kent Ridge the innovative HR solutions provider.

Janaka explained to young Sandul the importance of managing life in a balanced way. Using the "WISER" model which stands for Wellness (Physical, Mental, and Spiritual), Income source, Savings, Education, and Relationships, Janaka described how each aspect could help and guide a young Lankan in a totally different environment and cultural cross roads.

Janaka is also a visiting lecturer in HRM at the University of Colombo and Moratuwa and a past president of IPM Sri Lanka. Asked about how he viewed SUSA's performance Sandul commented; " they were highly recommended by two of my closest friends from Lyceum, Panadura who were helped by SUSA to gain admittance to MSU. Very professional and fully committed to the task. Very knowledgeable of US universities and their education. This is a service I'd recommend to anyone".