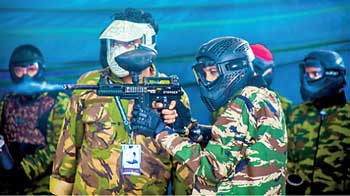 Experiential training is a concept that is steadily intriguing many companies in the current economic environment, as it drives HR motivation and promises tangible successes.

While the idea is certainly in existence among many HR training companies out there, Sandbox has conducted extensive research into the concept and generated processes within the experiential training portfolio that are not only innovative, but also real time result-oriented.

This paradigm shift was evidenced in one of Sandbox's recently-concluded Colombo Paintball League Tactical Leadership and Rapid Response Training programs with a top company in Sri Lanka where the entirety of the company participated in a gaming experience which was the largest such event of its kind ever held in the country.

The tactical field measuring 25,000 square feet was ground zero for the learning experience aimed at High Performance Team Building and Leadership Skills Enhancement. The Close Quarters Battle (CQB) enabled the participants to develop their on-the-job thinking and strategies to optimise results on the work floor. Feedback from the employees confirmed that the gamification process instigated a rethinking of everyday modes of operation with changes that are propelled by synergy.

Sandbox is making giant waves in the experiential training industry with innovative challenges that are not only adaptable to any type of workforce, but also cutting edge. Its virtual reality training programs too are gaining ground among leading companies who want to see real-time results.

Being an enterprise that appreciates investment in employees, the Sandbox team is prepared to equip companies out there that are waiting to stride into a new era of business with groundbreaking methods and modern commercial acumen.

Eager to bite into a slice of increased market competitiveness, a number of companies have already taken the leap to sign on as new Sandbox accounts this year to learn and introduce inventive methods that are now the driving force of progressive businesses.