Professor Buddhima Indraratna, Director of Centre for Geomechanics and Railway Engineering (GRE) at the University of Wollongong and a world-leading geotechnical expert on road and rail infrastructure, has been promoted to one of the highest echelons of the Australian professoriate structure, the rank of Distinguished Professor, and he becomes the inaugural Distinguished Professor of Civil Engineering at University of Wollongong, Australia.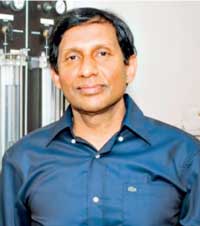 Recently, he also received three prestigious felicitation honours in geotechnical engineering: 1st Ralph Roscoe Proctor Lecture for Transport Geotechnics and 4th Louis Menard Lecture for Ground Improvement of the International Society of Soil Mechanics and Geotechnical Engineering, and Thomas Telford Premium award from the Institution of Civil Engineers, UK for his major contributions that have made an impact to industry, both in Australia and internationally.

Prof Indraratna was also chosen as the recipient of 2015 Individual Award of Railway Technical Society of Australasia (combined Institutions of Engineers Australia and New Zealand), which he received from the State Minister of Transport at the New South Wales Parliament House in October 2015.