The Government of Pakistan has conferred the prestigious Medal of Services 'Tamgha-i-Khidmat' on Ifthikhar Aziz for his meritorious services towards the promotion of Pakistan-Sri Lanka friendly relations as well as his great contribution towards enhancing trade, investment and strengthening educational and cultural links between our two friendly nations.

The award was announced at the Independence Day Celebrations of Pakistan recently held at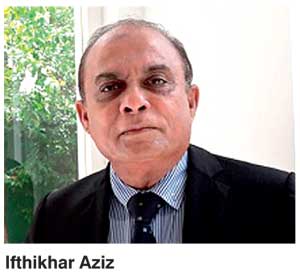 Aiwan e Sadar Islamabad under the distinguished patronage of the President of Pakistan Mamnoon Hussain, Prime Minister Nawaz Sharif and other distinguished dignitaries.

Aziz has been an outstanding President of the esteemed Sri Lanka-Pakistan Friendship Association. The Sri Lanka-Pakistan Friendship Association is one of the oldest friendship associations of Sri Lanka which was established 64 years back in 1950. The association has been able to establish itself as a useful platform, dedicated to the promotion of bilateral relationship and friendship between Pakistan and Sri Lanka. This relationship is not restricted to any one area or field, but it encompasses every aspect of bilateral cooperation i.e. people to people contacts, culture, education, health, etc.

With a view to further enhancing friendship, trade and investment between Pakistan and Sri Lanka, a new and more dynamic organisation was recently formed under the title of Sri Lanka-Pakistan Friendship Trade and Investment Association and Ifthikhar Aziz was honoured by being unanimously elected as the first President of this Association.

Aziz's association with Pakistan spans over 35 years and he has been a Member of the Sri Lanka-Pakistan Friendship Association for 33 years. Having held many positions in the organisation, he was recognised for his loyalty, commitment and efficiency and re-elected six times as its President.

Aziz has led this association admirably with commitment, passion and dedication in bringing the brotherly nations of Pakistan and Sri Lanka and its friendly people in a spirit of friendship.

During the visit of Prime Minister Nawaz Sharif to Sri Lanka in January, 2016, Aziz arranged to donate 10 corneas for the people of Pakistan on behalf of the association.

He hails from a distinguished Sri Lankan family and is well known amongst the social, business, diplomatic and political circles in Sri Lanka as well as in Pakistan.