Students given 'valuable research tool' on emerging markets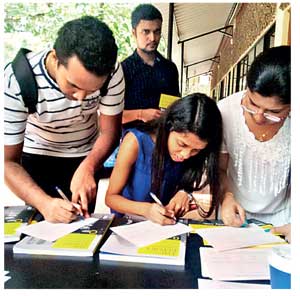 Students at the University of Colombo were recently provided with access to the extensive library of economic reports on emerging markets produced by the global research and consultancy firm Oxford Business Group (OBG).

Under the agreement, which forms part of OBG's worldwide Academic Programme, students based at the faculty of Graduate Studies, presided over by Dean Nayani Melegoda, and faculty of Management and Finance, run by Dean R. Senathiraja, were given read-only access to the Group's country reports, alongside over 25,000 searchable articles produced by its on-the-ground teams.

The decision to allow students to make use of OBG's content followed a meeting between OBG's team and Lakshman Dissanayake, the vice-chancellor of the University of Colombo. Topics on the agenda at the talks included the challenges that providers of higher education in Sri Lanka face.

Commenting after the agreement was signed, Paulius Kuncinas, OBG's managing editor for Asia, said he was confident that the reports and updates on emerging markets would prove to be a valuable tool for students during their time at the University of Colombo and beyond.

"Sri Lanka is keen to broaden its range of trading partners and capitalise further on its strategic location," he said. "Our business intelligence will give students and faculty here a valuable insight into the latest developments across a broad range of emerging economies as the country looks to redefine its position on the regional and global stage."

OBG's Managing Editor for Sri Lanka, Geoff Cooke, added that the agreement was timely, given Sri Lanka's plans to shift towards a knowledge-led economy.

"The Government has made clear its commitment to developing a human resource base with the skills to support an economy in which innovation and technology will galvanise new growth," he said. "We look forward to supporting a national drive to put education at the forefront of change by sharing our data and analysis with students here, many of whom will be playing a key role in shaping the country's future."

OBG currently partners over 60 universities and business schools worldwide as part of its Academic Programme, providing more than 10,000 students with access to its data.

The Group is currently undertaking the research for The Report: Sri Lanka 2017, its second publication on the country's economy. The publication will mark the culmination of more than six months of field research by a team of analysts from Oxford Business Group. It will assess trends and developments across the economy, including those in macroeconomics, infrastructure, banking and others. The Report: Sri Lanka 2017 will be available in print and online.