NOLIMIT, the biggest fashion retail chain in Sri Lanka, held the NOLIMIT Excellence Awards ceremony recently to recognise employees who have shown outstanding performance in the respective areas over the past year. This awards ceremony, an annual event held simultaneous to the company's anniversary celebrations, took place for the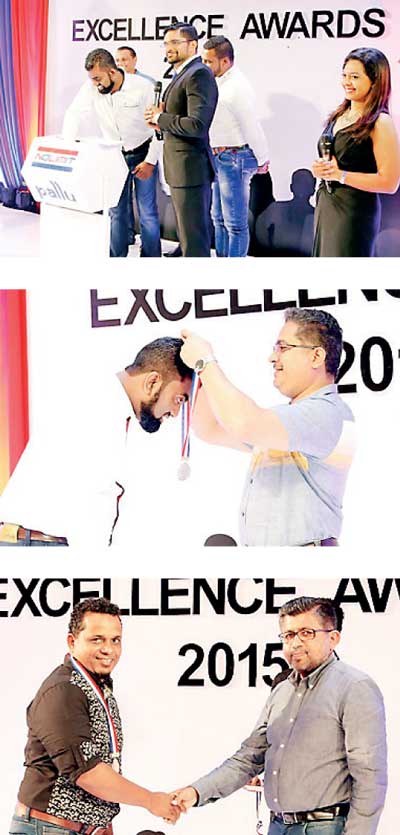 23rd time rewarding 200 employees, who displayed keen interest in shouldering the responsibilities assigned to them.

This year's Awards recognised employees and company performance under 19 different categories including excellence in sales, customer service, leadership, visual merchandising etc. NOLIMIT – Ratmalana won the award as the 'Best Showroom' and shared the 'Best Showroom award for Arapaima Loyalty Program' as well with Glitz – Hyde Park Corner. NOLIMIT Image – Wellawatte, NOLIMIT – Borella and Glitz – Mount Lavinia received the 'Best Showroom for Visual Merchandising' award while NOLIMIT Kegalle and Kurunegala were awarded the 'Best 5S Practices'.

In addition, 42 employees, who completed 10 years with the company this year, were recognised for their loyalty, integrity and untiring service for the company. A.S. Mohamed Sihaan received the 'Outstanding Showroom Manager' award while K.D.B. Sanjeewa Dissanayake received the 'Excellent Assistant Showroom Manager' award at the 23rd NOLIMIT Excellence Awards.

"Our employees are the secret behind our success. Their commitment, leadership and the team spirit helped the company pull through many challenging situations in style to stand out in the industry. Excellence Awards is just to recognise valuable contribution of our employees and to praise their good work," said Senior Manager HR Marlin Rupika De Silva, who shared her thoughts about the awards ceremony this year.

NOLIMIT is the biggest fashion retail chain in Sri Lanka with a history spanning over 23 years. It initially started with five staff members and a showroom in Dehiwala that has now grown up to a family of 1,800 employees with 14 NOLIMIT showrooms and five Glitz showrooms, a Pallu and a Y-pay-more showroom, showcasing its growth and success over the years. Its showrooms cater to a wide variety of fashion requirements of the customers from all walks of life and have expanded the portfolio with their own exclusive clothing labels.

Signifying the power of its team, NOLIMIT has won many industry awards locally and internationally for its business practices and executions: 'Asia Retail Congress Awards' for 'Customer Loyalty and 'Best Use of Social Media in Marketing'; Silver Award at the 'SLITAD Peoples Award Ceremony 2014' are significant amongst them.