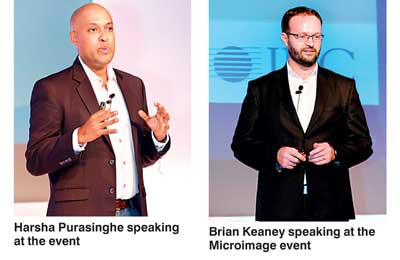 'Disrupt or be disrupted' was the key message delivered by Harsha Purasinghe at an exclusive Microimage HCM event, held last week. He urged his audience of industry CEOs and HR Managers to face challenges that are changing the way businesses must operate, stressing upon human resources across industries, to change their processes to keep up with today's digital era, at which point he unveiled the groundbreaking Microimage HCM Cloud, a solution built for digital era that works across devices.

Microimage has been in the HR solutions business for the past 15 years, transforming the human resource space through technology, from personnel management to human resource management to integrated talent management with an evolving HCM platform.

"But now we have come to an era which calls for a digital transformation," said Purasinghe. "So, we have wiped the slate clean and come up with an exciting and appealing platform, leveraging the power of key digital technology drivers to transform our clients into the digital era."

He said that digital transformation in HR isn't simply about automating existing processes but to leverage emerging digital technologies towards delivering a consumer grade experience to all stakeholders of the organisation.

Purasinghe said that some of the key challenges facing HR today are employee engagement, attracting top talent, employee development, retaining and rewarding talent, and performance management. Also, today we see the millennial generation in our workforce, and they are very much digital 'native'. "More than 50% of the global workforce in 2020 will constitute millennials. They are a generation that associates with four of the key disruptors. Therefore today's HR needs to rapidly transform to overcome these challenges."

According to him, four key digital disruptors: cloud, mobile, social and analytics are revolutionising the HR space. And today's HR needs to rapidly transform to meet these disruptors. By changing to digital platforms via cloud, mobile, social and analytics that will facilitate instant feedback, social collaboration, open communication, instant recognition, and frequent assessments, will keep employees engaged in their organisations.

The performance review process needs to be reinvented to suit the digital era and help organisations develop by leveraging video, social and mobile that drives on-demand learning anytime anywhere on any device, as well as knowledge sharing, continuous learning and ultimately delivering learning experiences to employees to keep up with the rapid challenges of today.

He added, "HCM Cloud is all about powering the digital transformation of HCM. We are enabling organisations to move to a complete digital HCM platform, with seamless scaling across functionalities, where they can further innovate and deliver compelling services to all their stakeholders. Digital transformation in HR should be an organisation-wide initiative supported with leadership and clear communication."

Supporting Microimage in this journey is Microsoft Sri Lanka, who will be providing cloud space for the HCM to operate from.

"As part of our mission to help every individual and every organisation on the planet to achieve more, there is huge potential in progressing that mission by re-imagining the human capital management processes in organisations and leveraging digital transformation to do so. For this reason, we are very excited to be working with Microimage to bring our trusted, intelligent cloud and their deep expertise and innovative solutions to the global marketplace. I look forward to continuing our engagement and working to revolutionise business processes and productivity for all and driving prosperity in our country together," said Microsoft Sri Lanka and Maldives Managing Director Brian Kealey.

Microsoft Azure was selected for the performance, security and efficiency that it offers. With HR departments maintaining highly sensitive and confidential data, the privacy and data sovereignty of a company is vital, therefore Microsoft's longstanding commitment in protecting customer data was a key consideration for deploying this cloud-based platform. The all-new Microimage HCM Cloud offers a comprehensive platform from Core HR to talent management. Its features include advance organisation setup for multi-country/group structures, consumer grade user experience across browsers and mobile devices, advance workflow, social collaboration, configurable business rules, natural language query, people analytics across all functions and mobile apps for iOS and Android.