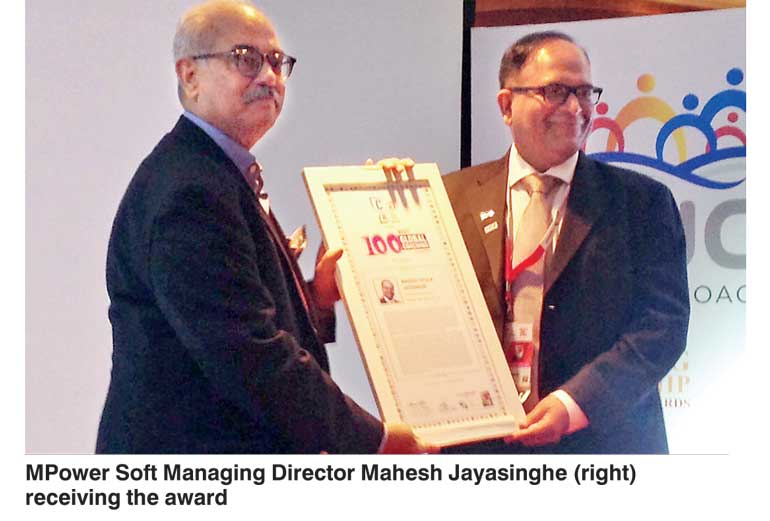 Mahesh Jayasinghe, an Executive Coach from Sri Lanka was recognised amongst the 100 Best Global Coaching Leaders Award at the World HRD Congress – Silver Jubilee celebrations held in Mumbai, India recently.

At this event several world HR leaders and international companies were recognised for their contribution towards many spheres of human resource development. This year's 25 year celebrations marked the participation of HR Leaders from 133 countries.

Mahesh is a Professional Certified Coach (PCC) from International Coach Federation (ICF), USA.

He is the first Sri Lankan to have received this accreditation from the ICF. Mahesh leverages his varied professional experience in several leadership positions spanning over 20 years in many industries both locally and internationally. He is the founder Managing Director of MPower Soft

Skills Ltd., which specialises in HR capability building and training and development interventions to leading corporates in Sri Lanka. He is a motivational speaker and has conducted his own signature motivational program 'Discover the Power within You' in local universities, state institutions, UN Agencies and other private organisations. His passion lies in empowering the youth of the country towards building self-confidence to conquer challenges faced. Mahesh's tried and tested unique coaching model 'MPower' helps individuals develop their leadership effectiveness and maximise their potential.

Speaking about the recognition received he highlighted that "I am honoured to receive this prestigious award and this recognition comes as a testimony of the acceptance of the contribution I have made in expanding the coaching profession in Sri Lanka. Coaching is a connected process, which helps individuals to discover their potential. Many corporate entities are now recognising the importance of bringing a coaching culture to their organisations."

Mahesh is an Alumnus of the University of Colombo from where he earned his first degree in Physical Science and MBA. He is Executive Council Member of the University of Colombo MBA

Alumni Association and is a Fellow Member of the Chartered Institute of Management Accountants, UK. He is a product of St. Thomas College, Mount Lavinia.