Kumari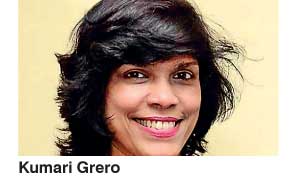 Grero, Coordinating Principal of Lyceum International Schools was recently appointed as the Chairperson of The International Schools of Sri Lanka (TISSL) at the AGM which was recently held in Colombo.

Everyone mutually agreed that there is no better person in the nation than her to lead us all at the apex level. She is indeed a true leader in the field of education. It was truly remarkable to watch how she developed eight branches within the Lyceum International Schools Network with unwavering courage, commitment and dedication. Under her guidance, eight branches with over 3,000 employees and 17,000 plus children are presently receiving employment and education.

She is a lady who has over the years shown empathy, compassion and kindness to all irrespective of gender, cast, creed or economic background. A true leader in every sense of the word she is someone we all can look up to and try to emulate.

Supporting her in this task for the period of 2017/2019 will be – Dr. Frank Jayasinghe (Founder President TISSL and Chairman of College of World Education), Dr. Harsha Alles (Immediate Past President TISSL and Chairman of Gateway College), Malithi Jayatissa (General Secretary of TISSL and Deputy Chairperson of Leeds International Schools and Principal of Leeds International School Panadura), Chrishanthi Wickrama Arachchi (Secretary Public Relations and Communication of TISSL and Principal of Regent International College Gampaha) and Hemal Abeysekera (Treasurer of TISSL and Director of Academics OKI International Network of Schools).