K. Sivagananathan Memorial Trust (KSMT) and The Association of Professional Bankers of Sri Lanka (APB) will hold the 14th annual K. Sivagananathan Memorial Oration and Awards Ceremony on Tuesday, 8 March, in commemoration of the late K. Sivagananathan, an innovative banker in Sri Lanka.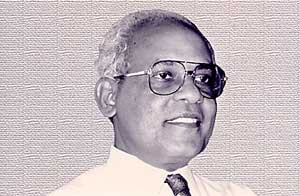 The late K. Sivagananathan had contributed most to uplift, upgrade and grow to unprecedented heights through many new innovations in Sri Lanka's premier State bank, the Bank of Ceylon, and his tireless contribution to improve the standard of education in banking and finance in Sri Lanka to international standards together with the APB and IBSL.

This year Chief Guest Deputy Minister of State Enterprise Development and former CEO of NDB Bank, Eran Wickramaratne, will deliver the Memorial Oration.

This annual event will be attended by the elite of the banking and financial institutions, professionals, bankers and the other invitees.The commemoration ceremony will also be addressed by Guest of Honour D.M. Gunasekara – GM/Chief Executive Officer – Bank of Ceylon, the President of the Association of Professional Bankers Deepal Abeysekera, Head of Marketing and Public Affairs, People's Bank and Nathan Sivagananathan, Chairman of the K. Sivagananathan Memorial Trust and Chief Growth Officer, MAS Holdings.

This year over 50 students who have obtained the highest marks in all three languages in the Diploma in Applied Banking & Finance (DABF) examination conducted in March and September 2015, conducted by the Institute of Bankers of Sri Lanka (IBSL), will be awarded cash prizes and certificates. As a result of the banking examinations conducted by the Institute of Bankers of Sri Lanka, which is affiliated to IFS School of Finance, UK, formerly known as the Chartered Institute of Bankers London, open to the bankers and public, tremendous enthusiasm has been shown not only by bankers but by those who aspire for a career in banking and finance.

The joint event conducted by APB and KSMT for past 13 years has met the objectives of both institutions. APB, a premier association serving the banking and financial institutions over the past 25 years has achieved many of its objectives year on year. Their primary mission being; to sustain the highest standards of professionalism and integrity among bankers, to advance the public interest, to influence the achievement of the highest ethical standards and governance in banking industry, to undertake, promote and facilitate studies in the field of banking, organise and promote research in this field and to undertake studies and research projects for the Government, private sector, International agencies and other Institutions, plan and organise teaching and arrange training programs, lectures, seminars, workshops in the field of banking and train students and others in research methodology with the idea of promotingknowledge and awareness in subjects relevant to banking. The K. Sivagananathan Memorial Trust (KSMT) is a non-profit organisation mainly dedicated to providing assistance to students pursuing higher studies in the field of banking and finance and encouraging them to excel in their examinations to achieve a higher standard to be in par with the developed countries, which was one of late K. Sivagananathan's wishes.

Together both institutes with their common objective to serve the nation and to promote banking studies have successful achieved the common objectives.

The KSMT has distributed over 600 cash prizes and certificates since 2002 to students who excelled in the banking exams conducted by the Institute of Bankers of Sri Lanka and has sponsored needy students to do the entire banking examination and also sponsored gold medal to be awarded at the Convocation of the Institute of Bankers of Sri Lanka.

This year a large number of highest achievers in DABF examination hail from outstations like Mirigama, Kandy, Chunnakam, Vavuniya, Jaffna, Moneragala, Bandarawela, Bandaragama, Beliatta, Ambalantota, Nattandiya, Karaveddy, Nattaranpota, Imbulgoda, Batticaloa, Amparai, Manipay, Lunuwila, Narammala, Pelmadulla, Udugampola, Mahiyanganaya, Chanknai, Mathugama, Neervely, Meegoda, etc. Late K. Sivagananathan who was keen to open the IBSL examinations not only to bankers but also to public would be proud to see the excellent results shown by the non-bankers and students from outstation.

The Board of Trustees of the K. Sivagananathan Memorial Trust consists of eminent bankers, educationists, top mercantile executives and businessmen. Following are the Trustees: Deshamanya A.S. Jayawardena, former Governor, Central Bank of Sri Lanka and former Secretary to the Ministry of Finance and present Chairman of Bartleet Trans-Capital Ltd., Dr. N.E.H. Sanderatne, Visiting Senior Fellow, University of Peradeniya, D.M. Gunasekera, General Manager, Bank of Ceylon, Rohini Nanayakkara, former General Manager of Bank of Ceylon, LOLC Group and Seylan Bank, Director General, Institute of Bankers of Sri Lanka, Pius Joseph, Managing Director Joseph & Company, Dr. Arul Sivagananathan, Managing Director Hayleys Industrial Solutions and Head of Hayleys Engineering, Power and Energy sector and Nathan Sivagananathan, Chief Growth Officer MAS Holdings is the Chairman of the Board of Trustees of KSMT (www.kstrust.lk).