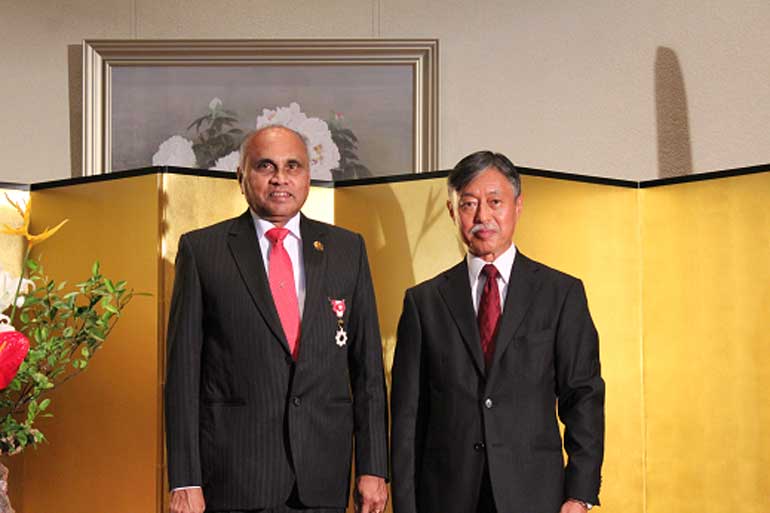 C. Lal De Alwis & Japanese Ambassador Kenichi Suganuma
The Government of Japan announced on 3 November 2015, the conferment of "The Order of the Rising Sun, Gold Rays with Rosette," upon Vice Patron of the Japan Sri Lanka Technical Cultural Association (JASTECA) C. Lal De Alwis, in recognition of his contribution to disseminating Japanese culture and promoting understanding of Japanese culture.

Japanese Ambassador Kenichi Suganuma formally conferred the order upon C. Lal De Alwis on behalf of the Emperor of Japan at a special ceremony held on 22 January, at the Ambassador's residence in Colombo, in the presence of a distinguished gathering.

C. Lal De Alwis is one of Sri Lanka's senior executives in the private sector. He played a pioneering role together with the late Ian Dias Abeysinghe in establishing the Sri Lanka alumni of Association for Overseas Technical Scholarship (AOTS) and the Asia Cultural Association Asia known as the Bunka Kaikan Dousoukai ,in 1965 for the purpose of channeling technical training opportunities for Sri Lankans.

In February 1984, C. Lal De Alwis together with Ian Dias Abeysinghe and assisted by four others established the Japan Sri Lanka technical and Cultural Association (JASTECA).In 1993, he was elected as President of the JASTECA for four years while in 1989, he was unanimously elected to chair the World Convention of AOTS Alumni Societies held in Yokohama, Japan. On his initiative as the Chairman of the World Convention of AOTS, an independent fund known as the World Network of Friendship was established to assist developing countries.

C. Lal De Alwis is currently the Vice Patron of JASTECA. He was also instrumental in securing the assistance of the Asian Fight Oral Cancer organisation based in Tokyo headed by Professor Kanichi Seto to fight against oral cancer among Sri Lankans resulting in the cure of over 250 victims.

C. Lal De Alwis followed two training programs organised in Japan by the Asian Productivity Organisation and was able to transfer this technology to many private sector companies and government organisations through seminars conducted by JASTECA. In 1983, he also followed the AOTS Program for Cross-Cultural Management in Japan and was instrumental in introducing the 5S management practices for the first time in Sri Lanka.

Since then, JASTECA has organised seminars, workshops and also conducts an annual award scheme known as the Taiki Akimoto 5S awards and the Kaizen Awards which have grown in popularity among many organisations and industries in Sri Lanka.

Accordingly, C. Lal De Alwis has played a key role in promoting JASTECA activities for the last 30 years resulting in the Association being graded as one of the best AOTS Alumni Societies in the world by AOTS.