Janashakthi Insurance PLC, a leading insurer in Sri Lanka, proudly celebrates the achievement of its team member Hasinda Fernando, for being ranked as one of the Top 100 Most Influential Global HR Professionals at the World Human Resources Development Congress held in Mumbai, India recently.

Senior Manager – Human Resource Development Hasinda Fernando was one of the few Sri Lankans to be recognised amidst a ranking of some of the best professionals in the global industry, marking his achievement as one of great significance not only to Janashakthi, but as an achievement that reflects the HR capabilities of the nation.

Hasinda joined Janashakthi over a decade ago where his potential for People Development was soon identified by the company during his first month of employment. He attributes his achievement to the facilitative environment at Janashakthi where he was able to 'learn, improve and grow' in line with Janashakthi's HR vision.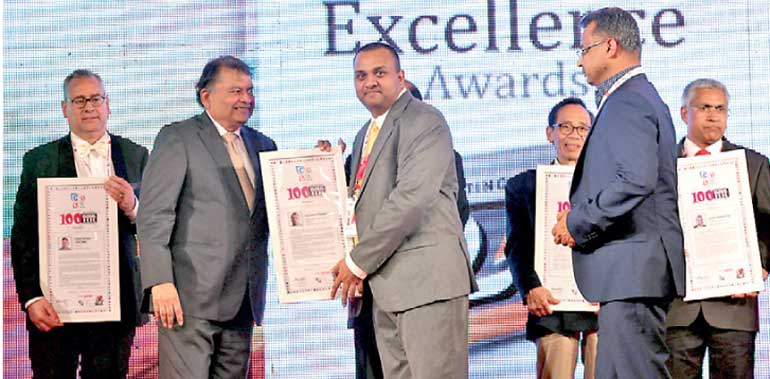 "We are delighted that one of our own has been recognised as one of the Top Most Influential Global HR Professionals, a ranking that undoubtedly helps set him apart in the industry. At Janashakthi, we focus on creating a culture that ensures that employment is seen more than just a job, and similar to the nature of our industry, lights the way for our team members to make a real difference in the lives of people. Hasinda has truly distinguished himself as an achiever in a winning organisation by making it to a ranking that highlights the best of the best at a global level and we applaud his achievement amongst the many other achievements of his career at Janashakthi," said Janashakthi General Insurance Ltd. Chief Executive Officer Jude Fernando.

Having received extensive exposure both locally and globally, Hasinda was empowered by Janashakthi to develop himself as an HR professional, as well as align himself and the organisation with global trends that has benefitted many employees in the process. He has significantly received eight promotions to date at the organisation, which has helped him establish a remarkable track record for his career and make a significant impact on developing a positive people culture at Janashakthi.

Janashakthi Insurance PLC, founded in 1994, made its mark in the industry as an innovator and household name over a span of two decades. As an organisation that thrives to deliver excellence in Customer Service by addressing the Insurance needs of its customer base, Janashakthi has an island wide branch network of 113 branches, a 24-hour call centre and around the clock assessor service. Today, the company stands strong as a leader in Motor, Non-Motor and Life Insurance services and continues resolutely on its vision of lighting the lamp of Insurance in every home and work place.