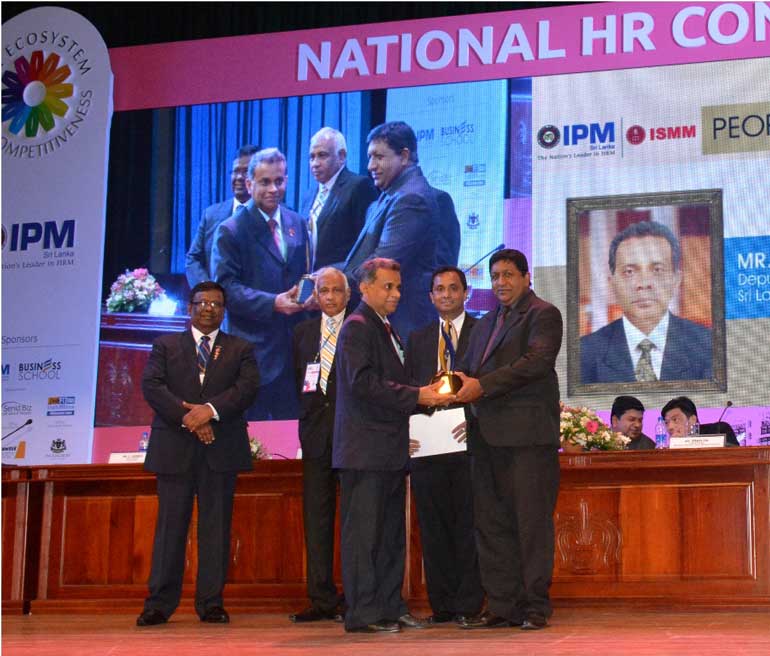 At the National Human Resources Conference 2016 organised by the Institute of Personnel Management and held at the BMICH on 21st and 22nd June, the "Peoples Leader – Supply Chain 2016 Award" was won by Dhananjaya Dharmaratne, a Council Member of the Institute of Supply and Materials Management, in recognition of his contribution towards promoting sound and vibrant people management practices in the world of work.

Dhananjaya commenced his career at the Ceylon Tobacco Company, a subsidiary of British American Tobacco, as a Production Apprentice and rose to the level of Supply Services Manager, heading the local purchase department when he left the company in 2001. Dhananjaya then joined Coca Cola Beverages as the Assistant Procurement Manager heading the procurement function. In his short tenure he managed to introduce the Vendor Managed Inventory concept (VMI) to the procurement team.

He later joined LM apparels (Brandix Casualwear) as a Resultant to work with the Thomas Group to introduce concepts to face the multi-fiber agreement. (Facing off of apparel quotas for Sri Lanka). His major accomplishment during this venture was to reduce the lead time by about 52% from the customer initial order to final product.

He then worked with Apollo Hospital now Lanka Hospitals, from 2006 to 2011 and then joined the management consultancy and lecturing sector.

Currently he serves the Sri Lanka Land Reclamation & Development Corporation as its DGM Supplies.

He is grateful to the Institute of Supply and Materials Management for nominating him for this contest and to the staff of SLLRDB for all the support and encouragement which enabled him to win this prestigious award.