IPM Sri Lanka – the nation's leader in Human Resource Management – announced the appointment of their incumbent Director of Finance and Administration P.G. Tennakoon to the key position of Chief Operating Officer in order to consolidate, coordinate and fast pace the many important initiatives that have been planned to be rolled out by IPM in the near future whilst improving the efficiency of the current operations. Tennakoon will continue to function as IPM's Director of Finance and Administration.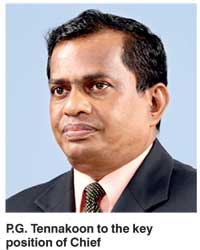 "We are pleased to appoint P.G. Tennakoon as our Chief Operating Officer. His long standing experience with IPM Sri Lanka since 2004 gives him a deep and intimate understanding of IPM's diverse operations as well as its vision in order to provide leadership to the many activities that are carried out on a day to day basis as well as our equally important longer term initiatives," said IPM Sri Lanka President Prof. Ajantha Dharmasiri.

"I am delighted to take over the role of Chief Operating Officer at IPM. IPM is a unique institution involved in a diverse array of activities ranging from student learning and education to professional member services and HR research. It will be a pleasure to continue my work at IPM as the COO," said Tennakoon.

Tennakoon started his career at IPM Sri Lanka in 2004 as an Accountant and progressed to the positions of Head of Finance and Deputy Director Finance and Administration. In 2011, he was promoted to Director Finance and Administration. During his 13 year tenure at IPM, Tennakoon functioned as the Acting Chief Executive Officer on two occasions while working as Director Finance and Administration. In 2013, when he was functioning as the Head of Finance, the IPM Annual Report won the Gold Award under the SME Category at the Annual Report Competition organised by CA Sri Lanka, and since then over the last four consecutive years the IPM Annual Report was recognised as one of the best annual reports under SME category. Tennakoon also gave the leadership for obtaining IPM's Quality Certification ISO9001: 2008 from Sri Lanka Standards Institute in June 2012.

Tennakoon is a corporate member of IPM (AIPM) and a member of the Senior Certified Business Accountant (SCBA) of CA Sri Lanka and holds the Post Graduate Diploma in Business and Finance Administration (PGDBFA) from CA Sri Lanka. He has obtained his Master of Business Administration from Wolverhampton University, UK.