Great HR Debate 2017 Chairperson Shiwanthie Wijesuriya, National HR Exhibition Committee 2017 Chairperson Primrose Mascarenhas, National HR Conference 2017 Technical Committee Chairman Chris Obeyesekere, IPM Sri Lanka President Prof. Ajantha Dharmasiri, National HR Conference 2017 Chairman Ken Vijayakumar, National HR Conference 2017 Deputy Chairman Priyankara Seneviratne, National HR Excellence Awards 2017 Chairman Anura Pandithage and IPM Sri Lanka Chief Operating Officer

P.G. Tennakoon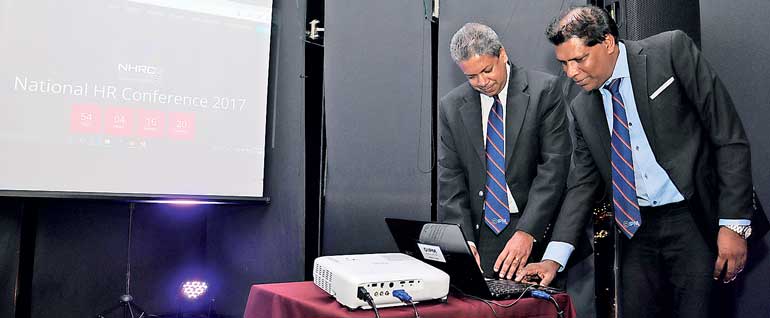 The nation's leader in Human Resources Management IPM Sri Lanka last week announced its much awaited event, the 'IPM National Human Resources Conference 2017 (NHRC 2017)' which will be held on 20 and 21 June at the BMICH in Colombo.

IPM's NHRC could be considered as the largest HR conference in South Asia and is a much looked forward to event by the HR fraternity to hear, from experts, about the innovative, people-centric concepts, tools and practices that are revolutionising the HR landscape while engaging in discussion, exchanging thought leading ideas and insights related to how people work in the rapidly evolving workplace of tomorrow.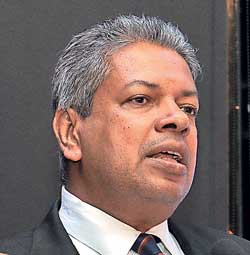 Gracing a press briefing held in order to announce the this year HR conference, IPM President Prof. Ajantha Dharmasiri said that with the intension to implement best HR practices among the HR professional of the country, this year them was defined as 'Emerging HR Leaders: High Tech & High Touch'.

"We have aptly selected the theme of 'Emerging HR Leaders: High Tech & High Touch'. We will deliberate on four Ds including digitalisation, disruption, diversity and design with regard to this inspirational intervention," Prof. Dharmasiri stated.

According to Prof. Darmasiri the conference is expected to attract around 1,000 local and foreign participants. "I have witnessed so many of HR conferences held in Asian country, but I am really glad to say that IPM National HR Conference is the largest HR gathering of South Asia since it is a main platform for all local and international HR professionals could perform. Yearly it generates higher numbers of participants and that numbers are rapidly increasing," he further said.

"The IPM NHRC 2017 will bring together many experts in the fields of HR and technology to share their insights on how digitalisation is fuelling disruption in the HR landscape, driving deep inroads into HR and society at large changing the way we that we have known it, and driving the need for change in the way we manage the people in the workplace and the workplace itself," he added.

IPM National HR Conference 2017 Chairman Ken Vijayakumar said that this year's conference will be totally different from the conferences that IPM had held for the past few years.

"The uniqueness and the significance of this year conference is that IPM consistently strives each year to attribute to the flagship event. It is widely acclaimed and substantiated by the ever increasing number of attendees at the conference each year," Vijayakumar said.

According to IPM this year's keynote address of the conference will be delivered by Dr. Ravi Fernando on the topic 'Emerging HR Leaders & their role in Driving Strategy'. A lineup of eminent speakers including Dr. Saman Vimalaratne, Dr. Raj Raghavan , Prof. Dharmasiri, Mara Tolia and Esther Makintosh will share their insights during the multiple technical sessions followed with the topics of HR Analytics to Optimise ROI, Managing Innovative and Disruptive Talent in High Tech Companies, Touch Savvy HR Leaders – Caring, Daring and Sharing, Working Out Loud and Future of Work and Developing a New Generation of Youth Employees for Growth Sector of the Sri Lankan Economy.

The first day of the NHRC 2017 will arrange a platform for cooperate sector professionals including public and private to deliver their good HR practices to the stage. By doing this IPM expects to make a stage for all participants to share their HR experiences with others and to tell what the best HR practices they have implemented are and what the positive and negative impacts they got from the implementation were.

After that program the NHRC will make the platform for the Great HR Debate 2017. Great HR Debate 2017 Chairperson Shiwanthe Wijesuriya said that the already around 20 of debating teams have been confirmed their participation to the debate.

NHRC 2017 Technical Committee Chairman Chris Obeyesekere outlined that the second day of the conference will be conducted as five sessions and after each session the scheduled Q and A session will provide ample opportunity for the audience to clarify any doubts and/or pose their own questions for clarification and answers by the speakers.

Parallel to these programs, IPM has organised a HR Service Providers' Exhibition in the same premises on two days which allow the Sri Lankan HR services providers to showcase their services to participants.

National HR Exhibition Committee Chairperson Primrose Mascarenhas said that around 50 HR service providers will display their products in this exhibition. She added that HR services including Training and Development, Outsourcing, IT, Talent Management, Hospitality services, recruitments and many more services will showcase in the exhibition. (CG)

Pix by Ruwan Walpola