The following article by iOM (www.iomworld.com) promotes the concept of using technology to effectively mitigate COVID-19 risks whilst also being proactive in managing your company's human capital.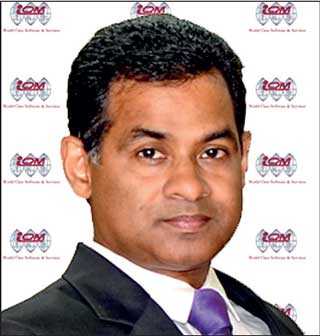 iOM Managing Director

Jitendra Daulagala


During this difficult time period spent due to the pandemic caused by the novel coronavirus, many businesses and organisations are struggling to keep their operations up and running while managing their employees efficiently. The 'Sri Lanka Preparedness & Response Plan – COVID-19 (April 2020)' published by the Ministry of Health and Indigenous Medical Services, Sri Lanka has stressed on the importance of limiting interaction between humans to prevent amplification of the transmission of the virus, which emphasises the urgency of practicing social distancing within the community.

However, as companies focus their attention on ensuring a steady work flow, a crucial factor which needs to be addressed and taken action against is the spread of the COVID-19 virus through and amongst their employees. This proves as a mandatory task for the Human Resources departments of companies where they are required to monitor the employees' attendance whilst ensuring that the employees do not help spread the virus amongst their colleagues by practicing social distancing.

A software system designed to assist HR operations, built with an all-in-one solution to monitor attendance of employees can be beneficial to ensure efficient and safe operations within the work environment. Here are some features and benefits of an HR software system that can be used by corporate personnel during the current pandemic situation.
Features that assist in this COVID-19 era
Temperature monitoring: An attendance solution that incorporates the measurement and recording of employee temperature on arrival or departure. It not only detects high temperatures in employees which may be a symptom of the virus but also can inform the necessary action station via SMS or email. As this is a contactless temperature check it also ensures minimal chances of contracting the virus.

Face recognition with mask: Biometric attendance systems such as fingerprint access can be extremely dangerous to use when recording attendance during these times since there is a risk of easily contracting the virus as all employees touch the system to mark their attendance on a daily basis. Therefore a system with a face-recognition feature, which records and recognises employee's face, even when wearing a face mask, while maintaining zero contact will be most beneficial in recording employee attendance safely.

Roster management: The virus is highly prone to spread in crowded places where there is less than a meter's distance maintained between each other. It may not be advisable to call all employees to the workplace at this critical time period, as it is not possible to practice social distancing when all employees are working in such close quarters. A digitised roster management system will be useful to call an allocated number of employees to the work place in order to maintain distance to reduce spreading the virus.

Geotagging for remote attendance capture: Many employees are forced to work from home during this pandemic, which makes it difficult for employers and their HR departments to mark and record employee attendance. Geotagging through a software system which captures attendance of employees working remotely will be beneficial in order to maintain an efficient work flow even when employees are not directly monitored by the management at the workplace.