Brings together diverse corporate institutes in a bid to promote cross-cultural learning
In a move to promote knowledge sharing and diversified learning, Holcim Lanka's Holcim Academy jointly launched yet another flagship program as Leadership Exploration and Development through Synergies (LEADS), with several other corporates. The program launch was held on 16 September at the Postgraduate Institute for Management (PIM).

The uniqueness of this LEADS program is that it brings together the best and the brightest from several top corporates in a bid to promote cross-cultural learning through a structured 'Certification' program delivered by Sri Lanka's premier business school – PIM. The Human Resources Heads of John Keells Holdings (representing Union Assurance as well) and South Asia Gateway Terminals (SAGT) signed a Memorandum of Understanding together at this ceremony, marking this as a great start! The first batch is expected to comprise of 30 participants in mid-level managerial roles representing all four corporates. The LEADS program is different to traditional leadership programs as it brings together professionals from diverse backgrounds.

Signing of MoU (from left): Holcim Lanka L&D/Employee Engagement Manager Maliyadewa Ranasinghe, Holcim Lanka Org. and HR Director Prasad Piyadigama, PIM Director Prof. Ajantha Dharmasiri, JKH President – HR/CSR/Legal Dilani Alagaratnam and SAGT General Manager HR Chandana Wijeynama


"This is a pioneer initiative as we are the first to host a leadership program in collaboration with such a diverse membership, varying from different industry leaders. Holcim constantly aims to draw from its resources in order to act as a knowledge hub for others in the industry. LEADS is one of many programs that Holcim Academy has launched, re-establishing the drive and passion at Holcim Lanka to create a learning culture. This program aims to provide a joint learning experience, providing some real life experience based on how top corporate people operate in different environments," said Director – Organisation and HR Prasad Piyadigama commenting on the launch.

The distinctive features of this program that go beyond a standard 'class-room' learning varies from three panel discussions comprising a mix of top leaders from each corporate, who will be on hand to provide key insights on practical leadership issue. Group case study presentations evaluated by faculty experts from PIM will boost the confidence levels of the participants to think differently in overcoming challenges. Interactive e-modules will see LEADS getting the best of a virtual learning experience as well.

LEADS has also adopted a personality assessment conducted via an online e-tool which will evaluate and provide a detailed report of a participant's leadership capabilities. This tool, after having rated one's self-explanation of skills and abilities will be used for one-to-one coaching sessions carried out by an expert in accordance with international standards.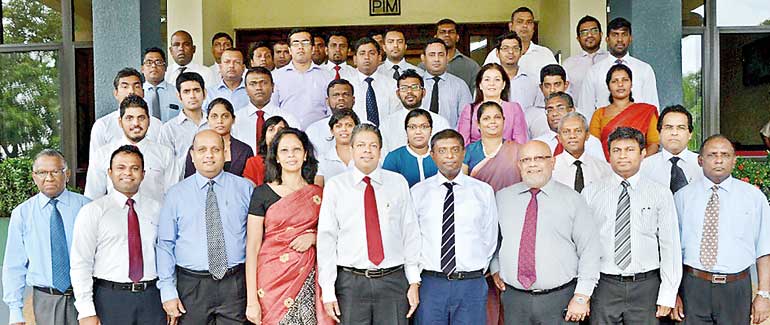 "Apart from the knowledge and the skills that will be imparted; the unique value of this program will be the learning we will gain from each other," commented John Keels Holdings President Human Resources and CSR Dilani Alagaratnam. PIM Director Prof. Ajantha Dharamasiri comments, "Through the partnership with the Holcim Academy the Post Graduate Institute of Management has a very key role in delivering a high quality learning experience for the participants of this program. As we begin this very unique certification program we aim to ensure and maintain a high standard of learning, while further strengthening our relationship with these corporates in building leadership competencies desired for organisational success."

Formulated to develop a 'skilled workforce', Holcim Lanka has set up a fully structured accreditation and certification system through the Holcim Academy in partnership with both local and foreign professional educational institutes.