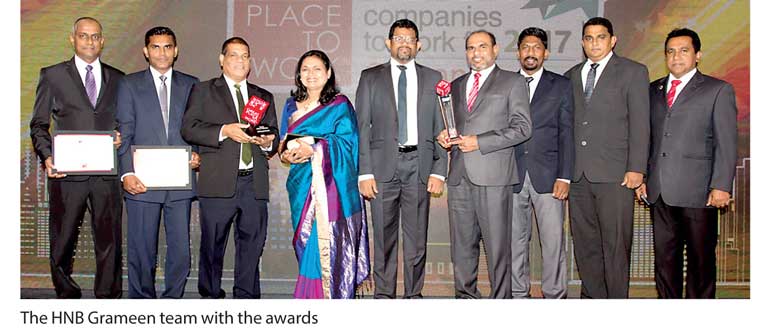 Wins three accolades for the first time at Great Place to Work Awards 2017
HNB Grameen Finance Ltd. has been recognised as one of Sri Lanka's best work places by Great Place to Work Institute Sri Lanka. The company managed to bag three prestigious accolades at this year's awards ceremony held at Cinnamon Grand Colombo on 28 June.

Being adjudged for the first time since its inception, HNB Grameen was awarded 'A Great Place to Work', one of only 25 companies in Sri Lanka to be recognised as such this year, as well as the Bronze Medal in its respective category. HNB Grameen also received the coveted Special Award for Pride and Advocacy among its workforce.

Commenting on the achievement, HNB Grameen Managing Director and CEO B.M.D.C. Prabhath noted, "The value of this award to us, as a debutante to this accolade, is that we as an organisation have not only achieved in terms of recognition among our customers but also our own people. It's indeed a testament to the heart and soul that our staff, the lifeblood of HNB Grameen, has put in over the past 17 years. Having a significant and steadfast backing by two powerhouses in their respective industries – Hatton National Bank and Prime Lands Group – I believe this award has showcased the bond our people have not only with this company but also with what they do, interestingly, putting true weight behind who we are and our organisational mantra

The unique value of the Great Place to Work Certification is its unwavering ability to establish the true sentiment of an organisation's workforce. Conducted over a process involving a sampling of individuals, done independently by the team at Great Place to Work, including a Trust Index Employee Survey and Culture Audit, among others, the awards are meted out based solely on the unabated employee feedback.

With over 350,000 customers being serviced through 48 branches by a strong contingent of 1,665 employees, HNB Grameen is an internationally acclaimed brand for its contribution to the micro financing sector of Sri Lanka. The unified focus and vision of HNB Grameen, throughout this journey of 17 years in the industry, has been to lead the nation as a stable and leading finance company pioneered in Microfinance, with a key focus towards a committed human touch; uplifting the populous and develop the economy of Sri Lanka.