Hashan Travis Haputhanthri a successful marketing/brand strategist, eminent author cum philosopher of Travis Brandsology (the first Asian philosophy for brands) and the co-author on branding for 'The book for Entrepreneurs' in India, was recently appointed to the Advisory Council of Centre for Education Growth and Research of New Delhi.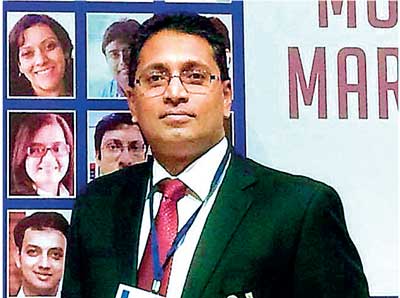 Haputhanthri is the first Sri Lankan to be appointed to this superior council and he joins with the great Indian scholars of branding/marketing and education. CEGR is the largest research based entity where they focus highly on skilling India.

"It was indeed a great moment where I absorb humbly. CEGR was always behind me to capitalise on my strengths. Ravish Roshan was the key game changer in CEGR where he supported me fully. I was recently asked to write to another international research based book for CEGR on my pet subject 'Motivation'. Being the first Sri Lankan to achieve this milestone with CEGR is a brilliant moment in my life. Skilling India is a great opportunity for me to enhance my knowledge and introduce my invention 'Brand Marketing'. Also this is a great event to Skill India through 'Self motivation'. CEGR was also instrumental in launching my 'Ignite' motivational program in New Delhi. I have decided to commit myself to CEGR fully," Haputhanthri indicated confidently.

Currently the Head of Marketing for TVS Lanka Haputhanthri recently won Gold awards for the prestigious SLIM Product Brand of the Year, SLIM Innovative Brand of the Year and won the Silver for Turnaround Brand of the Year for TVS Lanka. Earlier in 2012 he won the Turnaround Brand of the year GOLD for Maliban Smart Cream Cracker. Also, recently he was conferred as one of the 'Most Influential Marketing Leader' among Top 100 Global Marketing Heads.

He is the founder of YES Academy (Sri Lanka's only coaching academy for branding/marketing) and invented Ignite motivational coaching program which he launched internationally.

Having more than 20 years of brand marketing experience for both Food and Non Food, Haputhanthri headed brands like Nivea, Maliban Biscuits (instrumental in launching Maliban Smart Cream Crackers) and in Fiji Islands – Sunquick, Weetbics, Royal Tea, Island Chill Mineral water and 30 other major brands. He has done research in Inca, Egypt and Sri Lankan symbology. He has further researched colour psychology and Namelogy as well. Brand marketing and non conventional marketing are his inventions and newly revamped Diploma in Strategic Brand Management for SLIM is also his invention.

Centre for Education Growth and Research (CEGR) is an independent think tank dedicated towards qualitative, innovative and employability-enhancing education, preparing the next generation as future leaders. The Centre provides a platform for the exchange of dialogue among academicians, corporate, media and policy makers and augments educational growth and research. The Centre realises the importance of citizens' involvement in education and is committed to bring inclusive development in society.

CEGR advocates for quality education and for that regularly organises national seminar, conference, workshop on various issues related to education, skill development, entrepreneurship, women empowerment and other allied issues. Recommendations emerged from the deliberations are widely circulated to relevant stakeholders and pursue them to follow the recommendations. The Centre through its 15 discipline committees, 24 industry committees and other sub committees regularly comes with reports and publications in the benefit of society which are widely accepted as the authentic reference for the research.

CEGR through its five independent departments i.e. Social Welfare Department, Entrepreneurship Research and Incubation Centre (ERIC), Skill Enhancement Department, Research and Advocacy Department and Girls Education Department is engaged in social initiatives like creating an entrepreneur campaign, free lecture session, free medical aid and other social causes. To enhance skills they have launched advance and certificate program on Entrepreneurship, Higher Education Leadership and Management, Corporate Employability Skills and Research Methodologies at a very nominal cost.

The vision of CEGR is to be the leading Research Based Education Think Tank of India assisting the government in drafting stakeholder centric policies and in the benefit of society. CEGR aspires to assist the government in creating India as the best Global Research Hub and preferred global education destination for the students i.e. Learn in India.