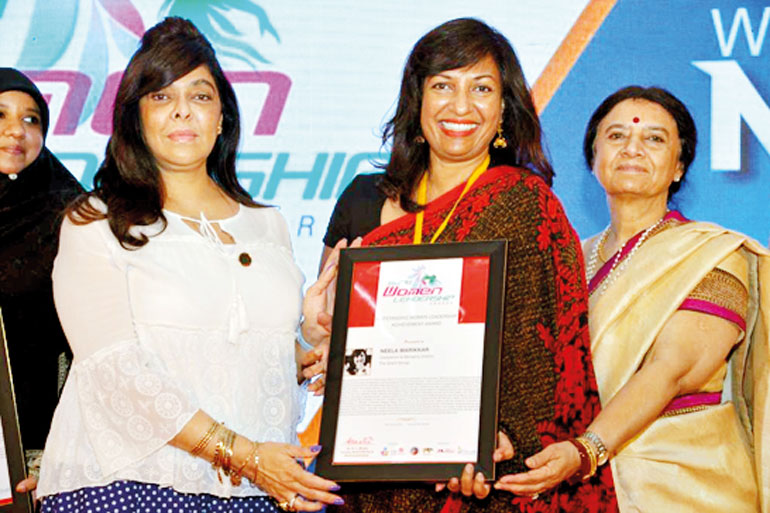 Neela Marikkar receiving her award
World Women Leadership Congress (WWLC) has chosen to honour Grant Group's Chairperson Neela Marikkar with the 'Outstanding Women Leadership Achievement Award' for her outstanding contribution as a woman leader in the global corporate world.

Neela who has been working in the field of marketing communications is the Chairperson of the Grant Group, a leading Communications Group in Sri Lanka. She has been recognised by the WWLC as an influential leader and change maker who is committed to making a difference through her tireless contribution both as an industry veteran and her personal passion for her advocacy work in reconciliation and gender equality. Neela and her fellow honourees were celebrated at the World Women Leadership Congress and Awards held recently at TAJ Lands End – Mumbai, India.

The World Women Leadership Congress and Award aims to recognise and celebrate the outstanding leadership and achievements demonstrated by philanthropists and women leaders in various private and public sectors. WWLCA highlights women professionals who have the vision, flair, acumen and professionalism to demonstrate excellent leadership and management skills in their own organisations while achieving extraordinary results.

The winners were awarded on the basis of multiple parameters including but not limited to leadership, ethics, social impact, charisma, a visionary approach, change-agent and business acumen. The WWLCA program is chaired and directed by a jury of prominent senior leaders, researchers and academicians.

Neela has over 30 years of industry experience acquired both locally and globally. Having championed brands for both local and multi national clients she continues to inspire individuals within and outside her organisation. She has been at the forefront of some effective public service campaigns that address highly important social causes like reconciliation and peace building, women and child health, HIV AIDS, child nutrition, child labour and abused women.

Speaking about this achievement, Neela voiced her delight and gratitude saying, "I am deeply humbled to receive such a prestigious award. WWLC is proof that committed, innovative and passionate women can make a significant impact in the world." In addition to her role at the Grant Group, Neela is a Past President of the 4A's, Charter President of the IAA, Chairperson of Sri Lanka First, Winner of the HK McCann Award, a Zonta Woman of Achievement, a member of Women Waging Peace, was an advisor to the Commonwealth Business Women's Initiative and a distinguished speaker at various international forums including Harvard University, the European Commission, Woodrow Wilson Centre and the Hague. She was recently recognised as one of the 50 most powerful women in Sri Lanka by Echelon Magazine. Neela's vision for the Grant Group is to lead the organisation to new heights in this new age of communication.