E&Y Sri Lanka was proud to host Peter Englisch, the Head of the EY Family Business Center of Excellence, from 17 to 22 January in Sri Lanka.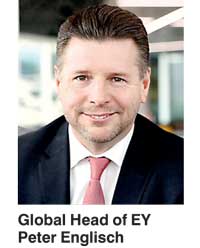 An experienced advisory partner for national and international companies, Peter has served family-owned business clients for more than 20 years. During his sojourn in Sri Lanka, the veteran spoke to clients about the pivotal aspects of growing family businesses while apprising the next generation on how to extend the longevity and future potential of their family-owned businesses.

Peter also shared best practices and imparted knowledge about succession planning, managing family wealth and about trends in global family businesses, while developing leadership and helping client sharpen business focus.

Further, he went on to discuss the 'glue that holds world's largest family businesses together' - philanthropy. While in Sri Lanka, he announced that the 5th EY NextGen Club Reunion will be held in Sri Lanka in September 2016, enabling its local and global members to enhance personal networks.

The Head of the EY Family Business Center of Excellence commented: "Family businesses around the world are facing mounting challenges and EY's Family Business Center of Excellence offers specialised advisory in supporting and advising family-owned companies on their options. In order to further our mission and service this clientele better, we have set up EY's Junior Academy – a global programme for young successors in family businesses, in collaboration with some of the world's leading business schools, to help the young leaders find their true niche in their family businesses.

"Sri Lanka has a rich legacy of successful family businesses that are making a major contribution to the national economy. By turning our focus on family businesses in Sri Lanka, E&Y hopes to support the next generation of business leaders to take this legacy further to create future opportunities to deliver innovation and financial and social value."

He added: "Colombo is at a critical stage of its development and considering the strategic importance of family owned companies in many sectors, they have a definitive role to play. My impressions of the country are positive and encouraging and I feel the country is heading on a vibrant path. I am happy I got the opportunity to share my insights and learning with local business leaders and we hope the EY NextGen Club Reunion to be held in September 2016 will give rise to opportunities for local family business leaders to tie up with global counterparts. However, compared to European family businesses, Sri Lankan family businesses are still at a developing stage and need to be able to endure beyond the first few generations."

E&Y offers the EY NextGen Academy First Programme, which is aimed at young people aged 16 to 20 in family businesses to discover their business potential, while the EY NextGen Academy Advanced Programme helps the leaders of tomorrow build on their entrepreneurial talents and is aimed at 21 to 25 year olds in family businesses. Lastly, the EY NextGen Academy Excellence Programme is aimed at family business professionals aged 26 to 30 plus, and encourages young global leaders to act as agents of change and learn how to turn innovation into value.

Peter Englisch regularly authors publications about family business and middle-market companies, leading annual and other market surveys, in conjunction with the Center of Family Business at the University of St Gallen. Peter is qualified as a US Certified Public Accountant and has worked with clients including Franz Haniel & Cie. GmbH, Phoenix Contact GmbH & Co. KG, Lekkerland AG & Co. KG, Coveright Surfaces Germany GmbH, ZF Luftfahrttechnik GmbH and GFKL Financial Services.