Never a better time to be a management accountant
The CIMA member convocation concluded recently with CIMA Global President for 2014/15 Keith Luck gracing the occasion as the chief guest. The program under the theme 'Global Competency, Delivered Locally' celebrated the success of 19 members who received the honorary title 'Fellow Member' and 369 exam complete students who were recognised as associate members.

CIMA Sri Lanka Board for 2015 Chairman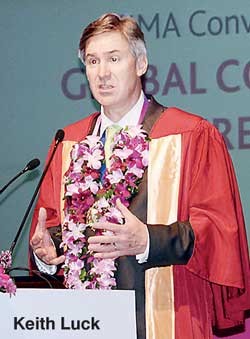 Vipula Gunatilleka, the guest of honour said, "Companies today are focusing on embracing transparency more than ever; today's leaders will have to be able to instil trust, honesty and integrity. In successful companies, the respected leaders have been quite transparent. Fortunately, compared to most other professions, CIMA has given you the toolkit to be successful."

Keith Luck, who made the keynote address at the convocation, stated that the global arena has experienced economic uncertainty as of late. However, he argues that against this backdrop, there has never been a better time to become a management accountant.

Commenting on the new members Luck claimed, "What a fantastic achievement it is to be a member of CIMA. Your status automatically places you among the top echelons in the field of Management Accountancy globally. Our new members will become the ambassadors who will spread the word of Management Accountancy worldwide."

He cited CIMA's international reputation – which is stronger than ever before, with over 500 training partners globally and over 237,000 members and students in 179 countries. "Global competency, delivered locally is a message which I have been taking around the world. Business leaders around the world tell us that our members have become an essential component for their businesses to succeed," explained Luck.

On his views on Sri Lanka, Luck stated that nationally, a CIMA Member is in an ideal situation to develop a rewarding and successful career. He is of the opinion that the growing strength of the Sri Lankan economy will position the country to perform well globally. Luck concluded that CIMA will continue to develop and promote management accountancy, ensure that the organisation will be business partners, work with senior individuals and help them steer their businesses to succeed.

In his concluding speech to the new members, CIMA Regional Director Middle East, South Asia and North Africa Bradley Emerson stated that CIMA is a 97 year old professional body which is built on the foundation of ethics and governance.

"Ethics is something that you bring from within; it is our religion, it is our upbringing and it is our own principles that we take every step of our way," elaborated Emerson. He further stated that as a nation, we have history, culture and heritage. Yet, what is our brand asset? "You are the future; you can change the image of the brand to become what the current leaders are thinking of. For that, we need professionals and professionalism, to be demonstrated in every transaction we do," Emerson said.