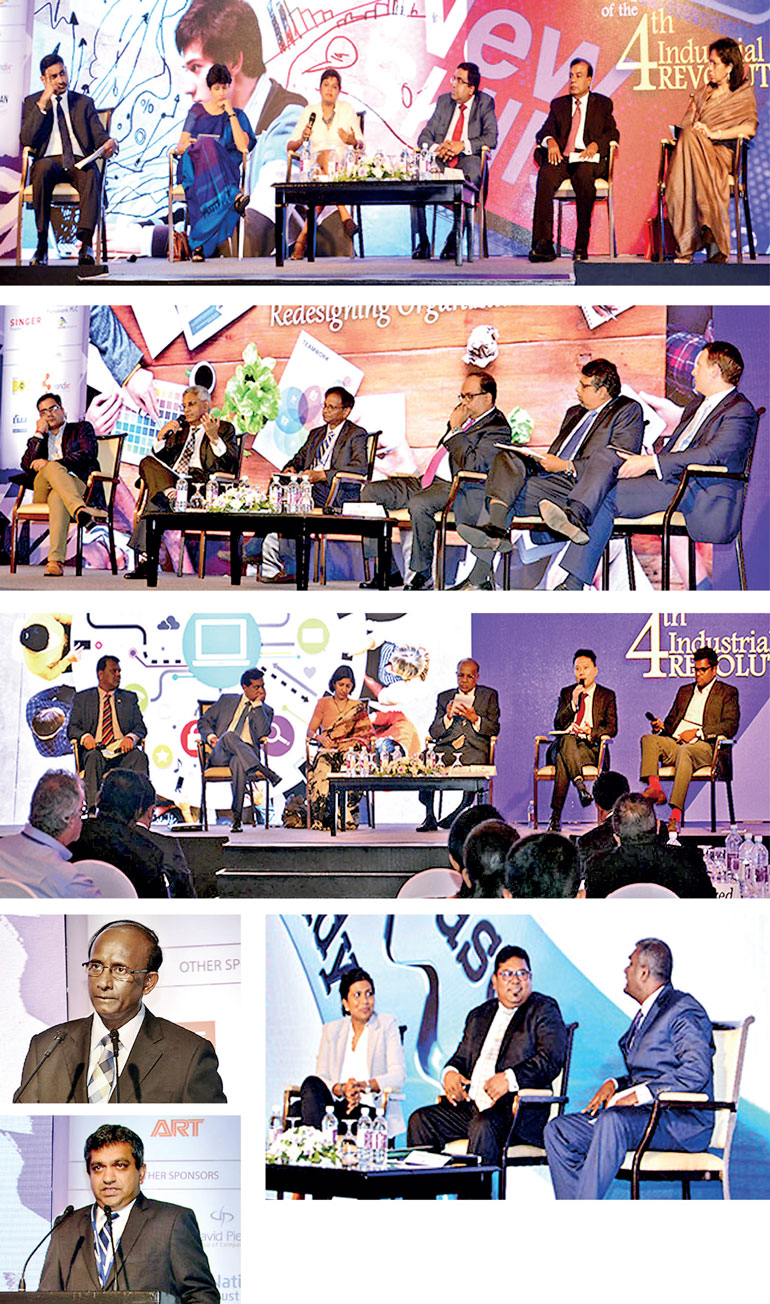 The annual Employers' Symposium which was recently held at the Cinnamon Grand, organised by the Employers' Federation of Ceylon (EFC) under the theme of 'Repositioning Sri Lanka – Meeting the Employment Challenges of the Fourth Industrial Revolution', was an invigorating exercise of mutual sharing and learning among the EFC member corporates committed to changing business paradigms and thereby influence policy-makers.

The symposium drew experts from some of the leading EFC member corporates. Armed with experience and new ideas on employment-related issues, these experts tabled means of finding sustainable solutions that would enable employers to incorporate best practices and employment strategies suited for their organisations in the backdrop of global business contest, fuelled by unprecedented technological advancements.

Applauding all experts who contributed to make the symposium a revitalising dialogue, EFC Director General KanishkaWeerasinghe remarked that, the event was also a reminder of the poignant words of Professor Klaus Schwab, Founder and Executive Chairman of the World Economic Forum who describes the new world order as 'Ubiquitous, mobile, supercomputing, intelligent robots, self-driving cars, neuro-technological brain enhancements and genetic editing'.

Prof. Schwab surmises that 'evidence of dramatic change is all around us and it's happening at exponential speed', which he proceeds to identify as the fourth Industrial Revolution. "Sri Lanka is no exception and change is already here and so are the opportunities," observes Weerasinghe who also noted that the member corporates of the EFC continue to strive to incorporate best practices aligned with the future world of work. "This was manifested by thought-provoking discussions and case studies the panellists and guest speakers brought under the spotlight at the symposium."

The technical sessions which chorused the urgent business requirements of 'reskilling the work force', 'redefining organisations' and 'rethinking employment' were complemented by case studies which expounded some of the success stories in these realms. The panellists shared their experience in selecting appropriate business models and re-designing organisations to support the achievement of business strategies and objectives and discussed 'new enterprise models' that can swiftly respond to customer demands, adapt to technological developments and create employee engagement in an era where traditional boundaries are transcending.

Driven by demographic, socio-economic and technological change and disruption, the implications which reflect on the talent landscape and demands placed on employees to redesign employment were also deliberated by the panellists. The urgent need for reskilling and upskilling of talents and the importance of striking a balancing between the 'old' employees and 'millennials' was also expounded by the panellists who urged companies to recreate their legacy structure which is responsive to changes.

Drawing attention to the forces that have impeded the process of bridging the gap between industrial needs and the skill shortage, the experts cited lack of integrated skills development strategy, brain drain, structural drawbacks in the education system and low participation by the private sector in technical and vocational training. An innovative exercise of remedying these forces with a collective will was lobbied for by all participants.

In his opening remarks, EFC's DG reminded the audience that while being conscious of "issues and trends that are universally relevant such as the global talent competition, emergence of new forms of work and flexible work arrangements as well as catering to demands related to a range of factors from worker autonomy to migration," it is also imperative to tackle certain problems "closer to home".

Dealing with demographic issues, particularly with regard to an ageing population, balancing the aspirations of millennials as well as taking measures to increase the participation of women and youth in workforce, were cited by Weerasinghe in this regard. "Implementing labour market reforms as well as educating bureaucrats and politicians to understand the urgency of bringing Sri Lanka to be in 'step with time' in order to become better competitive is a need of the hour," he further noted.

Producing high quality human resources was the prime responsibility of higher education and vocational training, observed Prof. Mohan de Silva, Chairman, University Grants Commission (UGC), in his keynote address at the symposium. Prof de Silva who cited a gamut of issues responsible for producing an unskilled workforce, also called for a quality assurance system in the higher education sector. "The UGC is doing this in respect to state universities but there is no provision for the same in non-state higher education providers."

He also urged for the establishment of Technology Transfer Centres with competent personnel, more public-private collaborations and a higher level of support both at the Treasury level and at policy level to encourage research and development activities.