The Chartered Institute of Marketing Sri Lanka entered into a strategic partnership with Emerald International Ltd., one of the leading shirt brands in Sri Lanka to further strengthen the knowledge and expertise of marketing.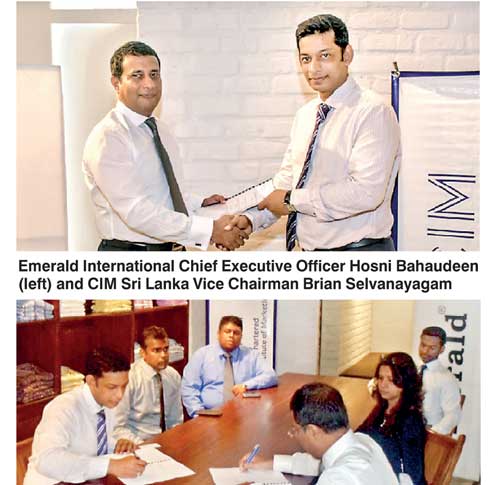 The Memorandum of Understanding (MOU) signed between CIM Sri Lanka and Emerald International Ltd. will mutually benefit both organisations in terms of strengthening their respective brand identities in the market.

Commenting on the partnership, CIM Sri Lanka Vice Chairman Brian Selvanayagam said, "We are proud to partner with Emerald International and grateful to their continued support to help promote CIM and its activities in Sri Lanka."

CIM Sri Lanka is the first International branch of CIM UK and is proud to claim the largest membership outside the UK. Celebrating its 20th anniversary, CIM Sri Lanka has always campaigned for high professional standards, greater recognition for the profession and marketing excellence in Sri Lanka through education, training and development.

Emerald International Chief Executive Officer Hosni Bahaudeen said: "We at Emerald International are delighted to sponsor a renowned professional body such as The Chartered Institute of Marketing Sri Lanka as it will be an ideal opportunity to sharpen our knowledge and skills in our unwavering commitment towards delivering the best to our consumers." Emerald International Head of Marketing Kisani Dahanayake and CIM Sri Lanka Head of Corporate Partnerships Rajiv David were also present at the event.

Emerald International is the market leader in Shirts in Sri Lanka. The brand is known for its quality, reliability and innovative offering whilst driving new fashion trends in the men's shirt market through its Shirt Works retail outlets and the largest dealer network in the country. The Emerald Brand has continuously achieved substantial growth and brand leadership milestones through the years and proudly celebrates 60 years of expertise in the industry.