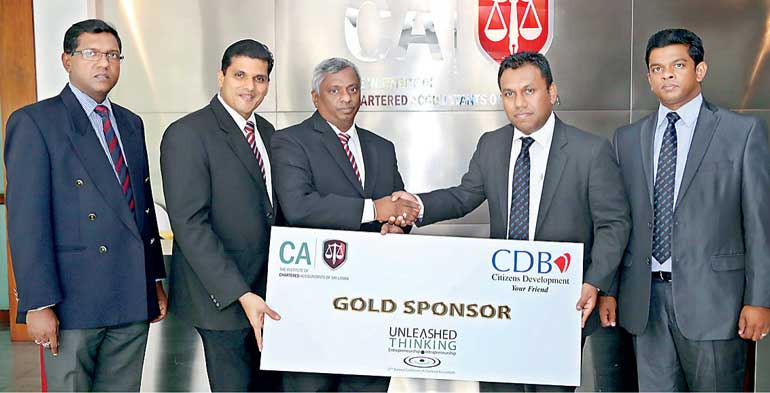 CDB DGM – Finance Hasitha Dassanayake and DGM – Liability Portfolio and Sales Isanka Kotigala exchanging the sponsorship cheque with CA Sri Lanka President Lasantha Wickremasinghe, Conference Committee Chairman Tishan Subasinghe and CEO Aruna Alwis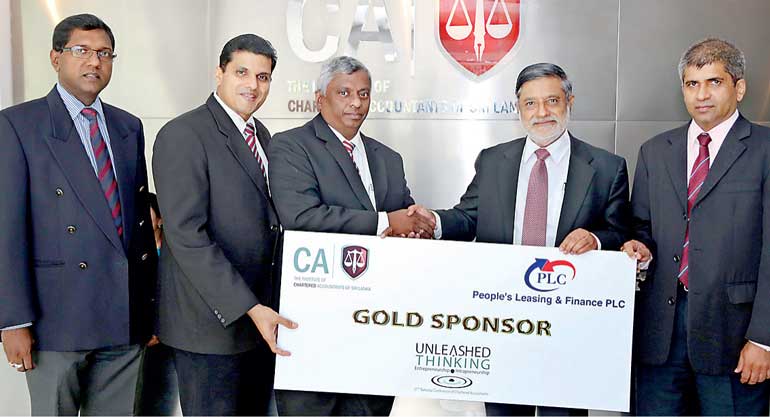 PLC CEO/General Manager D.P. Kumarage and DGM – Finance and Administration Sanjeewa Bandaranayake exchanging the sponsorship cheque with CA Sri Lanka President Lasantha Wickremasinghe, Conference Committee Chairman Tishan Subasinghe and CEO Aruna Alwis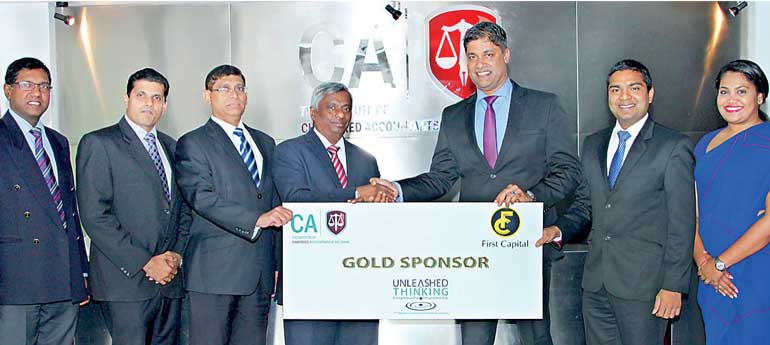 First Capital Chief Executive Officer Dilshan Wirasekara, Senior Manager – Business Development and Corporate Planning Kosala Liyanagedara and Manager Branding and Marketing Services Nisansala Munasinghe exchanging the sponsorship cheque with CA Sri Lanka President Lasantha Wickremasinghe, Vice President Jagath Perera, Conference Committee Chairman Tishan Subasinghe and CEO Aruna Alwis
Three top companies, Citizens Development Business Finance PLC (CDB), First Capital Holdings PLC and People's Leasing & Finance PLC (PLC) has come onboard to power the 37th National Conference of Chartered Accountants with Gold sponsorships.

The annual flagship event, organised by the Institute of Chartered Accountants of Sri Lanka (CA Sri Lanka) will be held from 19 to 21 October, under the theme 'Unleashed Thinking: Entrepreneurship and Intrapreneurship.' The conference which has built a reputation as a leading business summit in the country, is expected to attract over 1,500 business leaders including chartered accountants and leaders from other professions.

CDB CEO/Managing Director Mahesh Nanayakkara said that drawing on a legacy driven by an entrepreneurial mind-set galvanized by challenge, innovation being the best and, the CDB ethos aligns well with the fundamentals embedded in the CA Sri Lanka National Conference this year which centres around 'unleashed thinking' to promote entrepreneurship and intrapreneurship.

"Our overarching platform of financial empowerment and inclusivity is thus driven by this spirit of entrepreneurship and intrapreneurship, which to us syncs brilliantly with CA Sri Lanka's ultimate goal of driving this nation to unleash our thought processes, removing ourselves from stereotypes and becoming formidable forces in the region. We at CDB are extremely happy to join CA Sri Lanka in making this a reality," Nanayakkara said.

First Capital Holdings Group Chief Executive Officer Dilshan Wirasekara said that First Capital is delighted to sponsor a benchmark event such as the National Conference of Chartered Accountants for the third successive year. "We see the impact that national level events such as this conference have on the maintenance of high professional standards and practices across the industry as Sri Lanka's capital market enters the next phase of growth," he said.

PLC Chief Executive Officer/General Manager D.P. Kumarage said that his company was pleased to be onboard to sponsor the conference for the sixth consecutive year.

"This year's conference is expected to focus on the potential of entrepreneurship and intrapreneurship, specifically on how it can benefit Sri Lanka to drive the country to the next level, boosting its standing as a global player in the international business arena.

Reputed as a business summit, the conference aims to stimulate vibrant innovative entrepreneurs and intrapreneurs whilst establishing high profile market leading companies to be ready for the new challenges that they will have to face as a result of disruptive technology, consumer demand and the aspirations of millennial workforce," he said.

Welcoming the companies onboard, CA Sri Lanka President Lasantha Wickremasinghe said as a highly respected professional organization, the institute takes it upon their responsibility to give the necessary boost not only to enhance the standing of the accounting and finance professions, but also to be a catalyst in helping Sri Lanka's achieve its growth goals.

"As a country, we have great potential to be a global player, and we believe this summit which attracts a significant representation of corporate leadership, will be the perfect platform to promote and stimulate upon the importance where both entrepreneurs and intrapreneurs can take the lead to help Sri Lanka achieve it's true potential," Wickremasinghe said.