Bharti Airtel Lanka among Sri Lanka's best companies to work for
Wins Gold Award for Best in Multinational Corporations category and Silver Award in Medium Sized Enterprise category at the Great Places To Work (GPTW) Awards 2015
The youngest organisation in terms of market existence in Sri Lanka to receive these prestigious accolades
The only telecommunication operator to be listed in GPTW (Sri Lanka) Hall of Fame
Bharti Airtel, a leading global telecommunications services provider with operations in 20 countries across Asia and Africa, today announced that it was adjudged one of Sri Lanka's Great Places To Work, at the Great Places to Work (GPTW) awards ceremony, organised by the GPTW Institute recently at the Colombo Hilton.

In addition to this, Airtel Lanka also received two other awards – the Gold Award for the Best in Multinational Corporations in Sri Lanka category and the Silver Award in the Medium Sized Enterprise category.

The Great Places to Work Awards recognise organisations in Sri Lanka based on feedback from employees on what makes an organisation a great place to work at. This research was conducted in Sri Lanka for the third successive year by the GPTW Institute in partnership with LMD and the Ceylon Chamber of Commerce. Out of over 60 leading corporates and over 12,000 employees in the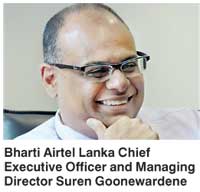 country amongst whom this research was conducted, Airtel Lanka was the youngest organisation and the only telecommunications company to win this title.

"It is our team's passion to perform that enables us to operate in a highly-competitive and regulated industry. The overall people strategy at Airtel is all about building capabilities to take the business to the next phase of growth. Therefore, we don't simply give jobs, we present careers with enriching experiences and challenging growth opportunities which is what makes Airtel a great place to work at," stated Bharti Airtel Lanka Chief Executive Officer and Managing Director Suren Goonewardene.

"This is a fantastic achievement for team Airtel," said BhartiAirtel Lanka Head of HR, Anouchka Pathirana. "Despite being a young entrant to the industry, within such a short period of time our steadfast commitment towards our people agenda has been recognised by GPTW and is a significant achievement for us."

"The growth opportunities at Airtel are tremendous and are beyond boundaries. Our key focus areas have always been on creating a highly engaged and dynamic team of individuals. Our continuous nurturing of talent and building of capability through focused interventions are key differentiators. Our core values of 'Alive', 'Inclusive' and 'Respectful' are the driving force behind all our accomplishments," she added.

Team HR of Bharti Airtel Lanka from left: Priyanka Kumarage Senior Manager Talent Engagement and Development, Steve Adams - HR Officer, Lalithe Kulasuriya - Assistant Manager HR Services, Anouchka Pathirana Head of Human Resources, Sureni Dayaratne – Assistant Manager Talent Acquisition and Resource Planning, Prarthana Ranasinghe – Assistant Manager HR Operations & Analytics, Gaithri Seneviratne – Executive Employee Engagement & Talent Development


Bharti Airtel Lanka commenced commercial operations in Sri Lanka on 12 January 2009. With its network footprint panned out across the country, Airtel has emerged as Sri Lanka's fastest expanding network. Registered under the Board of Investment in Sri Lanka, Airtel Lanka provides digital mobile services to Sri Lanka which include voice, data and enterprise solutions.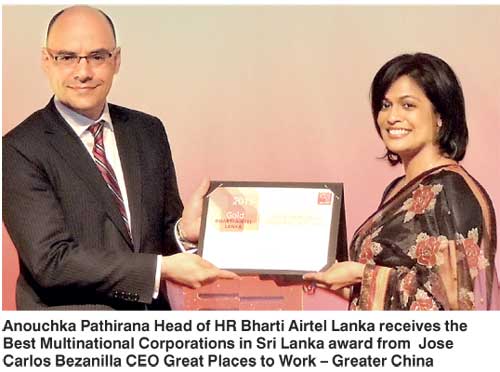 Airtel Lanka's strong 'people' oriented policy has been lauded by the Association of HR Professionals in partnership with content partner AON Hewitt India when they were granted a Silver Award at the HRM Awards 2012.

The company also received a Gold Award at the People Development Awards 2014, organised by the Sri Lanka Institute of Training and Development (SLITAD). Airtel Lanka is the youngest organisation to be ranked among the Top 50 in LMD's Most Respected Entities list in 2014. The company is also the only telecommunication service provider to receive accreditations such as ISO 27001:2013 and ISO 22301:2012 for its continuous efforts towards information security and business continuity. For more information visit www.airtel.lk.