BDO Partners joined hands with the Department of Accounting of Faculty of Management Studies and Commerce, University of Sri Jayewardenepura, to provide an opportunity for undergraduates to work with the fifth largest global accounting network by entering into a Memorandum of Understanding on 10 June.

This event was attended by Vice Chancellor of University of Sri Jayewardenepura Prof. Sampath Amarathunga and BDO Partners Managing Partner Sujeewa Rajapakse along with other officials of both Institutions.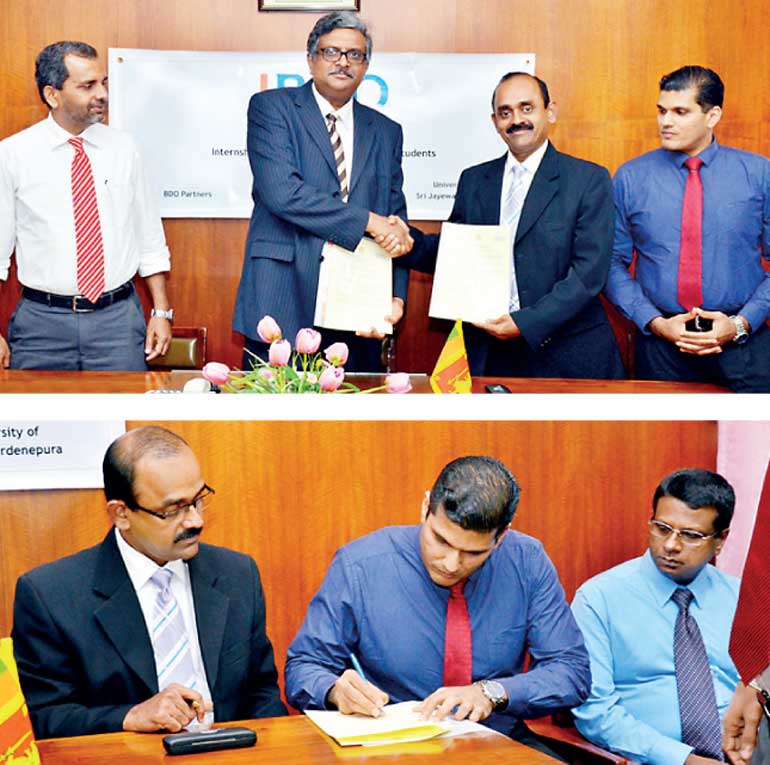 Prof. Amaratunga stated: "This MoU with BDO will help our students to be well equipped to face the corporate environment. It our duty to make sure that the internship which they receive would be from a world recognised firm and we are confident that the internship which the students receive from BDO would transform the student life."

Furthermore he stated that BDO should take the responsibility to bridge the gap between the skill set acquired by the student through education and the skill set required by the corporate world.

As a response to this, Rajapakse stated: "At BDO, we understand that our success and adaptability depends not only on recruiting and developing the most talented professionals, but also on creating an environment where they can thrive personally and professionally."

Furthermore he stated that BDO takes the responsibility to make sure that they would be well equipped to face the corporate world at the end of the internship program and also that BDO would make sure that the students would be able to maintain a work life balance.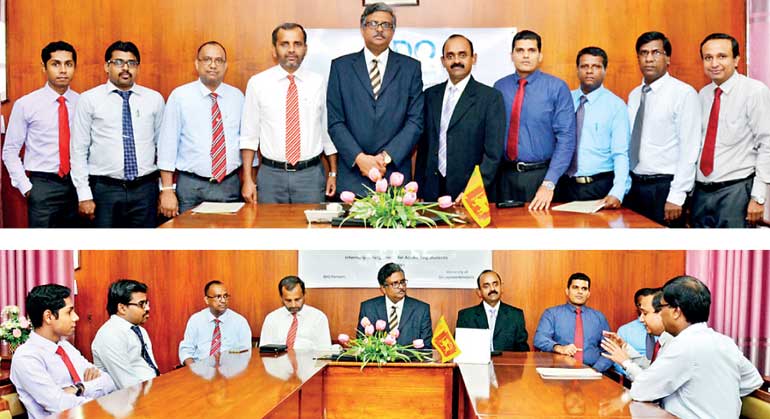 BDO Partners as a service oriented firm considers it their responsibility to look after the future generation and the future leaders of this country by providing extended services on providing a formalised internship program for the third and fourth year students of the Department of Accounting.

The HR, Technical and Training Partner of BDO Tishan Subasinghe explained: "As a strategic partner of the University the MoU also provides that BDO will contribute through conducting workshop on enhancing technical and soft skills annually, provide the services of its resource personnel in the education and training, engage in knowledge sharing activities for the development of the student population."

BDO Partners as a globally recognised accounting firm strives to uplift the quality of young accounting professionals to become talented working professionals in the industry.

BDO Partners is a leading professional service firm providing audit, advisory, tax and consultancy services to national and global businesses. BDO Partners Sri Lanka is a part and parcel of the global network sharing knowledge and expertise. The firm has expanded into varied service lines providing the client a seamless array of professional services with high quality delivery. BDO Brand stands for exceptional client service, delivered by exceptional people.