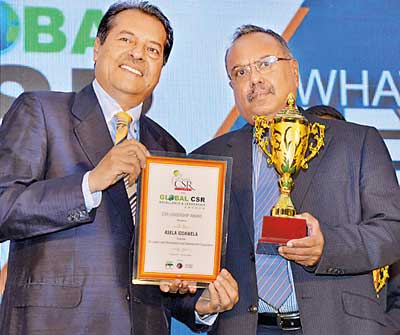 Asela Iddawela, Chairman of Sri Lanka Land Reclamation and Development Corporation, was awarded with the Global CSR Excellence and Leadership Award at the World CSR Congress held in Mumbai recently. He was awarded with the appreciation of his leadership in environmental protection and community development initiatives.

Iddawela led Geocycle, Sri Lanka's one and only hazardous waste disposal unit, as a successful project. Creating a market for waste is a nightmare in year 2003, 13 years before, but the commitment, dedication and leadership of Iddawela made it a successful economically viable business entity which is self-sustaining. From the inception of the project, it has disposed more than 400,000 metric tons of hazardous waste without leaving any environmental liabilities to the future generation. More than 300 local and multinational companies are currently obtaining the service of Geocycle.

Also Iddawela has led the SD division of Holcim Lanka prior to his current assignment as the Chairman of SLLRDC, where he had piloted many community development projects, such as shelter projects with more than 60 houses in Puttalam, Kalpitiya, Mundalama and Galle areas, health projects by donating equipment to many hospitals, supporting reconstruction of Colombo National Hospital, reconstruction of Puttalam Base Hospital emergency entrance, etc. Reconstruction of Siyambalagahawatte Bridge, diverting Kailawatte canal in Galle to mitigate flood, scholarship programme for school children and livelihood projects are some of the steps taken to support local communities.

Furthermore, under his guidance "Holcim Dahami Yatra" project was launched which supported re-construction and renovation of 63 temples in Southern Province and 40 temples in North Western Province, and more than 100 temples in other areas of the country.

It was said having understand the contribution Iddawela has made to the environment and to the local communities of Sri Lanka, that World CSR Congress has recognised him as a suitable candidate for the Global CSR Excellence and Leadership Award. World CSR Congress get nominations across the world through its professional network, and a strict selection is made through an eminent panel of judges who are pioneered in the fields of CSR and Sustainable Development. This selection is forwarded to the Chairman of the Jury whom conclude the final selection.

The 5th World CSR Congress held at Hotel Taj Land's End, Mumbai on 17 and 18 February with the participation of more than 1,000 professionals in the field from more than 130 countries, this time. The World CSR Day is guided by leaders, who believe in the value of Sustainable CSR; that which is built in the fabric of business – making it a reality. 'Leaders produce leaders' will be a common thread uniting nations and people who take CSR more responsibly. They also believe that CSR is a tool to the development of the future.