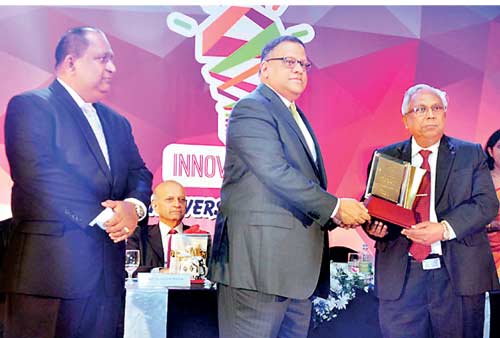 Central Bank Governor Arjuna Mahendran hands over the replica to Veteran banker Sarath de Silva for his tremendous service to the industry while Association of Professional Bankers of Sri Lanka President Deepal Abeysekara looks on
The Association of Professional Bankers – Sri Lanka conferred this year's 'Outstanding Contribution to the Banking Industry' award to Arumadura Sarath de Silva, the former General Manager Chief Executive Officer of Bank of Ceylon, at its 27th Anniversary Convention held at the Cinnamon Grand, Colombo in the presence of a large number of banking and financial industry professionals. The award was presented to him by Chief Guest Central Bank of Sri Lanka Governor Arjuna Mahendran.

Each year, the APB considers making an award at its annual convention for 'Outstanding Contribution to the Banking Industry'. The criteria for selection are the significant voluntary contributions made by him for the benefit of the banking industry as a whole, which could be recognised in the industry as outstanding, rather than to one or few institutions. Such contributions shall be made continuously for a considerable length of time by performance of activities which are well beyond the call of his official duties or arising from appointments received by virtue of his official position.

A veteran and versatile banker, a true professional, Sarath de Silva is a product of Royal College, Colombo where he had a very distinguished school record winning several prizes, he obtained a Bachelor's Degree in Public Administration from the University of Sri Jayewardenepura, He joined Bank of Ceylon, the biggest bank in Sri Lanka, as a young staff officer and had an illustrious career in the bank ending up as its General Manager/Chief Executive Officer. His expertise ranged from branch banking to corporate banking and he was a specialist in development banking.

A Fellow of the Chartered Institute of Bankers, London he was also conferred a Fellowship by the Institute of Bankers, Sri Lanka. In 2006, he was awarded the prestigious 'Lifetime Award' by the Association of Chartered Bankers of Sri Lanka Trust – Colombo the Local Centre of the Chartered Institute of Bankers, London in recognition of his distinguished contribution in the field of banking and in the activities of the Colombo Centre. He was also conferred an Honorary Life Membership of the Association of Professional Bankers – Sri Lanka. He has the unique distinction of having been the President of both, the Association of Professional Bankers – Sri Lanka and the Colombo Centre of the Chartered Institute of Bankers (London) concurrently during the period 2001/2002.

It was on his initiative that bankers in Sri Lanka ventured into lending to the small and medium enterprises and thereafter move into microfinance. His expertise and contribution to development banking was recognised by several international agencies such as World Bank, Food and Agriculture Organisation of the United Nations (FAO), International Labour Organisation (ILO) and International Fund for Agriculture Development (IFAD). In the 1980s he was invited by the World Bank / FAO / IFAD to serve as an Institutional and Credit Specialist on a Project Reconnaissance Mission for the Government of Tanzania. He also had the prestigious opportunity to serve on the Committee of Management of Asia-Pacific Rural and Agricultural Credit Association (APRACA) representing Sri Lankan member Banks.

He has presented several papers at seminars/conferences both locally, and internationally in countries such as Belgium, Ireland, Japan, Iran, Philippines, Thailand, Indonesia, Pakistan, Bangladesh and Nepal. He has to his credit several articles written by him ranging from corporate banking to payment systems, general bank management and development banking.

The positions held by him after retirement from Bank of Ceylon include, Chairman of Lankaputhra Development Bank in 2008 Chairman, Sri Jayewardenepura General Hospital, Chairman, State Pharmaceutical Corporation, Chairman, National Wealth Corporation (NatWealth), Chairman, Ceybank Holiday Homes Ltd. and Ceylease Financial Services Ltd. In addition he served as a member of the National Payments Council and served in the directorates of a large number of organisations. He has the rare distinction of having served the financial services industry continuously for over 45 years which only a selected few can boast of.

He had served on several governmental commissions and task forces, especially in the SME sector and the youth employment endeavours. Several of the schemes initiated by him in development credit received national recognition and continue to be implemented. He was privileged to be the first Chairman/Director General of the National Enterprise Development Authority, which was set up by the Government for furthering the development of small and medium enterprise sector in Sri Lanka. He also served as a Director, of the Strategic Enterprise Management Agency (SEMA).

His remarkable contribution to the entire banking industry after his retirement was when and he was appointed as a Chairman of LankaClear Ltd. The migration from the automated cheque clearing to the more sophisticated Cheque Imaging & Truncation System (CITS) was initiated during his tenure under his direction and guidance.

As he was keen in sharing his knowledge with his fellow bankers and especially young bankers, he served as a resource person at various national level banking training institutions in Sri Lanka. He had several exposures overseas and profusely travelled globally on banking business.

A unique personality, he has gained experience and exposure not only in banking but also in industrial policy development, healthcare, local government financing and aviation services.

The Association has been conferring this Award since 2006 and the previous recipients of this Award are:

A. Kathiravelupillai

Gaston Gunawardena

Dr. Wickrema Weerasooriya

A.S. Jayawardena

Rienzie T. Wijetilleke

Dr. R.B. Ekanayake

Nihal Fonseka

W.A. Wijewardena

Dr. Ranee Jayamaha

Parama Dharmawardene

Rajendra Thiagarajah

Rohini Nanayakkara

M.R. Prelis

Ranjit Fernando

The APB's 27th Anniversary Convention this year was held under the theme 'Innovate to Win'. APB President Deepal Abeysekera delivered the Welcome Address and Governor Mahendran delivered the Inaugural Address. The Keynote Speaker was Jayendra P. Nayak, former Chairman and Chief Executive Officer, Axis Bank, India and Chairman, Union Bank of Colombo.

At the Technical sessions, presentations were made by Arun Krishnan, Vice President, EdgeVerve and Global Head of Engineering of Finacle, Muhunthan Canagey, Managing Director/Chief Executive Officer, Information & Communication Technology Agency of Sri Lanka, Nayana Dehigama, Chairman/Managing Director EPIC Technology Group, Udena Wickremesooriya, Entrepreneur, former Board Member Brandix, and Pratik Shah Partner – Financial Services Risk Management, Ernst & Young

The Panel Discussion was chaired by Aravinda Perera Managing Director, Sampath Bank PLC and Dinesh Weerakkody Chairman – National Human Resource Development Council and Cornucopia Sri Lanka. The panellists were Dr. Harsha Subasinghe, Managing Director, Code Gen Ltd., Kavan Ratnayaka, Chairman, Associated Newspapers of Ceylon Ltd., Kapila Ariyaratne, Director/Chief Executive Officer of Seylan Bank PLC and T.M.Y.J.P. Fernando Controller of Exchange, Central Bank of Sri Lanka.

This year's Anniversary Publication was sponsored by Deutsche Bank AG, Colombo Branch and Tyronne Hannon presented the first copy of the volume to the Chief Guest. Copies of the volume were also handed over by him to the writers of the articles.