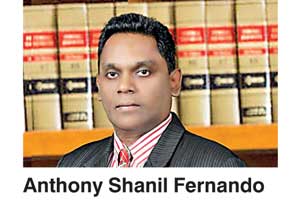 The Colombo Stock Exchange (CSE) announces the appointment of Anthony M. Shanil Fernando as a Director of the CSE Board.

Fernando, Attorney-at-Law, Solicitor, MBA, is a Senior Partner at Anton Fernando Associates Law firm. He is also the Chairman of AFA Corporate Services Ltd. and the Director of World Express (CMB) Ltd. Fernando has been a board member of the Urban Development Authority and Paliyagoda Warehousing Company Ltd. and is a former member of the investment committee of the Employees' Trust Fund Board.

He obtained a First Class Honours and Prize in Commercial Law at the Sri Lanka Law College, where he founded the Human Rights Society. Fernando has since followed postgraduate studies at the Queen Mary College, University of London on a Commonwealth Scholarship (Chevening), the University of Texas and the University of Prince Edward Island Canada. He is a member of The Singapore Institute of Arbitrators and is a qualified arbitrator, where he has received training by the Commonwealth Association for Corporate Governance, the United Nations Economic and Social Commission for Asia Pacific (UNESCAP), AOTS Japan and the International Chamber of Commerce (ICC) in France on Contracts and Arbitration.

In addition, Fernando has obtained an MBA from the Postgraduate Institute of Management (PIM) affiliated to the University of Sri Jayewardenepura including conducting a research thesis on the Use of Electronic Data interchange for the facilitation of Trade and Transport Facilitation.

Fernando is presently the Secretary of the International Chamber of Commerce (ICC) and represents Sri Lanka as a Task Force Member of the ICC Commission on Arbitration and ADR and has attended many international ICC workshops and CEO forums. He is a life member of the Bar Association of Sri Lanka, the Corporate Lawyers Association and the Organisation of Professional Associations of Sri Lanka. He is a past president of the Postgraduate Institute of Management Professionals Association (PIMPA).

He also serves as a visiting resource person in the areas of Arbitration, Corporate Compliance, Negotiations and Conflict Resolution and Supply Chain Management. He was also a recipient of the 'Achievers Award' by the Postgraduate Institute of Management Professional Association.

Commenting on the appointment, CSE Chairman Vajira Kulatilaka stated, "The perspective of experienced professionals from both within and outside the capital market is important in our goal to develop into a world-class exchange. I take this opportunity to welcome Fernando to the CSE and I am confident that he will make a valuable contribution to the development of the capital market."

The CSE Director Board comprises of five Directors elected by CSE Member Firms and four Directors appointed by the Government. Fernando joins Chairman Vajira Kulatilaka and Directors M.R. Prelis, Ray Abeywardena, Asanga Seneviratne, Aravinda Perera, Dakshitha T.W. Thalgodapitiya, M.A.D.S. Jeeva Shirajanie Niriella and Anton Godfrey who serve in the CSE Board at present.