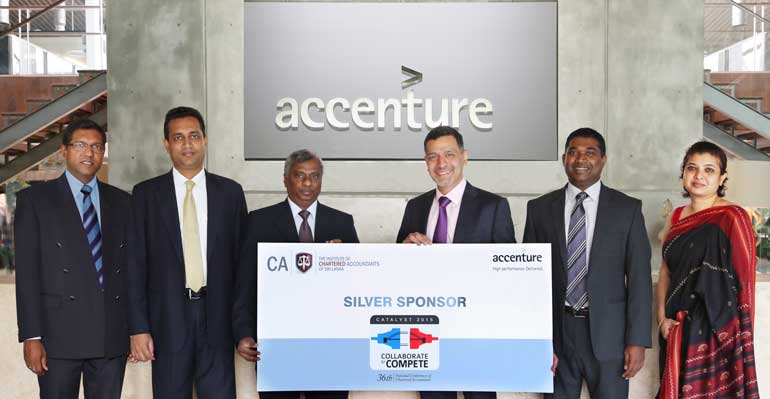 From left: Aruna Alwis – CEO, CA Sri Lanka; Heshana Kuruppu – Chairman, National Conference Committee; Lasantha Wickramasinghe – Vice President, CA Sri Lanka; Bhavin S Shah - Managing Director, Accenture Lanka; Virendra Perera - Senior Vice President, Accenture Lanka; and Thilanka Ranasingh - HR Lead, Accenture Lanka
Accenture Lanka Ltd. recently came on board as a silver sponsor for the 36th National Conference of Chartered Accountants, which will be held from 4-6 November at the BMICH, Colombo on the theme 'Collaborate to Compete'.

Managing Director of Accenture Lanka, Bhavin S. Shah, said that his company was delighted to engage with CA Sri Lanka as a sponsor for the 36th National Conference on the theme of collaboration.

"Collaboration and innovation are embodied in the way we work with our clients to help them become high performance companies and governments. Working with several of the world's leading companies, observe that organisations and professionals that collaborate effectively are emerging as the most innovative and competitive in an increasingly connected world. The emerging digital ecosystem provides a perfect environment for collaboration at various levels. We look forward to participating in the conference and being a part of the evolution of the industry in this exciting country as it moves into the digital era," he said.

Welcoming Accenture Lanka on board, President of CA Sri Lanka, Arjuna Herath, said he was pleased that the conference was attracting some of the best of the best companies in the country as sponsors for the flagship annual event.

"The 36th National Conference of Chartered Accountants will take the lead to inspire Sri Lankan businesses on the importance of collaboration to help foster closer and sustainable partnerships with their service providers, employees and even competitors in order to achieve holistic business excellence," he added.