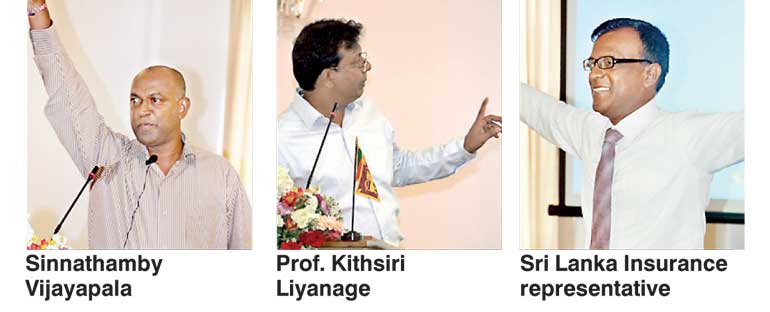 The 11th residential seminar of the Academy for Administrative Professionals (AAP) held recently at Araliya Green Hills – Nuwara Eliya was a huge success. The target group was senior and management level administrative professionals, managers, executive secretaries, personal assistants, coordinating secretaries and marketing and affiliated field executives.

The program was exciting with knowledge enhancement, skills development, self upliftment and educational excursion. Dr. B.M.K. Perera delivered the keynote on Self Empowerment for Administrative Professionals. Dr. Jayalath Eirisinghe, Prof. Kithsiri Liyanage and Dr. B.M.K. Perera, who served as the resource panel, are renowned lecturers from the University of Peradeniya. Sinnathamby Vijayapala and Anuradha Gamage and staff of United Nations Information Centre also comprised the resource hub. Sustainable Development Goals (SDGs), Attitude Blow, Organisational Development, Self Satisfaction, Interoffice Relationships, Working with Mixed Generations, Stress Management, Time Management, International Relations, Dining Etiquette and Road Safety were the topics discussed.

Team leader Kamani Walisinghe in her welcome speech said that, AAP has created immense opportunities to administrative professionals to climb the corporate ladder with pride. There will be no other place than AAP to encourage and motivate to reach highest professional standards, acquire professional qualifications and to showcase the hidden talents and skills of Aps, she said.

Sunethra Nugawela, speaking on the progressive journey of AAP said that the AAP has now been reorganised and restructured with a clear strategy. There are no uncertainties. More importantly AAP is full of great people. Throughout its long history AAP has never been afraid to change and will continue to change again and again. AAP is more focused; stronger and safer and able to create value for each and every Administrative Professional. An exclusive Life Insurance Policy has been designed for her members in consultation with Sri Lanka Insurance, she announced.

She thanked the fraternity for the support extended at demanding times and said that AAP will surely march forward with confidence for the new era. This mission will be possible if the focus on the real opportunity for success which lies within the person and not in the job, is seriously taken into consideration. As such she requested to empower the self first so that we could serve others with passion.

A meticulously planned social event on Tribute to Tea Tribes and AAP Royal Dynasty was the platform created to exhibit hidden talents of the participants. The unique feature was the presentation of 'Distinguished Service Award' to Hiranthi Gunawardena for 10 years continuous service to AAP, Attendance Award to Rinzi Bangasajayah for attending 10 Residential seminars consecutively and Appreciation Award to Kamani Walisinghe for taking the mantle of leadership at the 11th Residential seminar. Prof. Carlo Fonseka, in conclusion, said that he will make every effort to support AAP in her all endeavours as done in the past and he cherish memories of AAP.

The organisers are extremely happy with the evaluations and post seminar response, which evident that the AAP standards and success has grown from strength to strength.