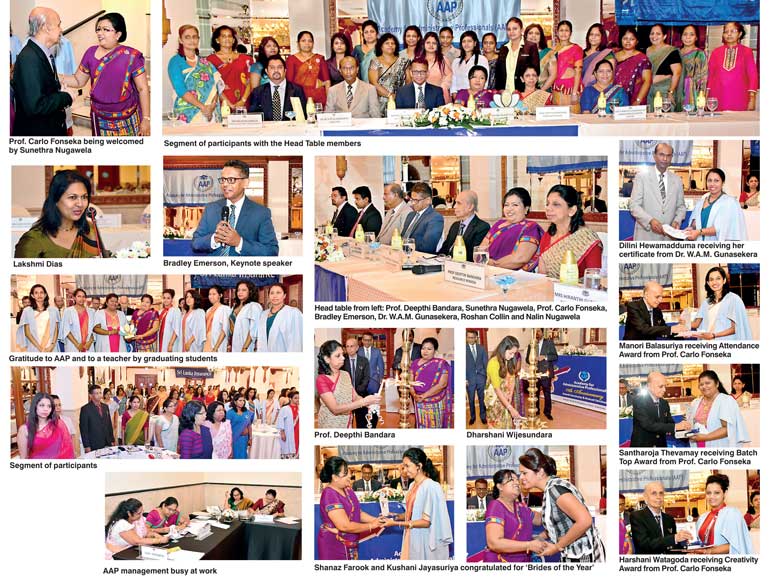 Academy for Administrative Professionals concluded its 11th anniversary, graduation ceremony and the annual seminar workshop themed above on a very successful note recently at Kingsbury Hotel.

Sunethra Jayaratne Nugawela welcoming the distinguished gathering said that AAP began together, progressing together and working together, which is the secret of success. She also congratulated the graduating students and emphasised the need of change in a digitally interconnected globe.

She requested them to be open minded, to believe in others and self, to treat people with respect, to be passionate about whatever they carry out in order be a successful executive. Satharoja Thevamay, Harshani Watagoda and Manori Balasuriya were awarded the Batch Top, Creativity Award and Attendance Award respectively.

Bradley Emerson founder CEO of The Business Athlete, for executive coaching, Executive Director Special Projects, of International Skills Development Corporation, UK/India in his keynote speech alarmed the attendees to be competent to sustain in the trade. He also stressed the need of applying simple business norms for a huge impact to shine as a professional.

The resource panel consisted of Prof. Deepthi Bandara, who conducted a workshop on 'Navigate the Future', Indulekha Nanayakkara spoke on 'Cyber Norms', Kuma de Silva on 'Corporate Etiquette', Dr. Nihal Kulatilake on 'Pure Heart' and a renowned Brand Consultant on 'Brand Me'.

AAP invited all administrative professionals to be a part of AAP fraternity and to enjoy lucrative benefits it offers whilst acquiring professional development by following its unique courses, which are detailed in its website.

AAP students Lakshmi Dias, Hansani Vithanage, Kushani Jayasuriya, Santharoja Thewamany, Dilini Wijesundara and Manori Balasuirya were the presenters of the day. SANASA Development Bank and Sri Lanka Insurance were the gold sponsors and Serene Hotel Kandy was the silver sponsor of the event. All organisations, press and media were gratefully acknowledged by the AAP, for their unstinted support in making the 11th anniversary celebrations a huge success.