Dhashma Karunaratne is the Commercial and Marketing Manager at South Asia Gateway Terminals, better known as SAGT.

In this role she contributes to the overarching Commercial and Marketing strategy and is accountable for tactical execution to achieve its strategic objectives.



A Fellow member of CIMA (UK) she commenced her career at Mercantile Investments in 1999 and moved to Fentons as the company's Management Accountant. In 2005 she joined the Corporate Finance and Group Strategy Division of premier conglomerate John Keells Holdings and moved to MNC Reckitt Benckiser as The Commercial Controller in 2007.

Dhashma joined Team SAGT in 2009 as Manager – Management Accounting. When the vacancy for her current role arose in 2014, she grabbed the opportunity to broaden her professional scope.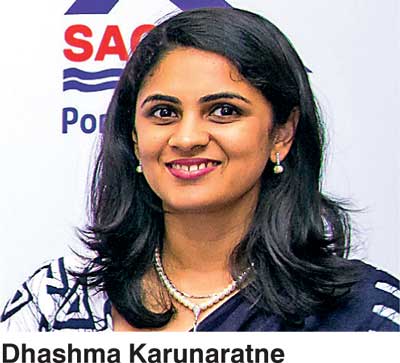 She recalls the early days as being exciting and challenging. "I came into the position at a time of increased competition in the port of Colombo. Our customers – the liner container industry – was experiencing unprecedented financial challenges," she says. "Additionally, there were other 'man made' challenges imposed on our operating environment, as the port was not being positioned as one entity but rather divisively very inward looking."

"However, working alongside the newly appointed Ted Muttiah as Chief Commercial Officer was inspiring, confronting, motivating and at times overwhelming. Ted needs no introduction of course; he brought international best practice, is highly driven and a master business strategist. He set high standards, led by example and challenged us to move out of our comfort zone and actualise our true potential. He was relentless in positioning SAGT as a customer focused high-performance organisation. His imminent departure to a new assignment overseas, in my opinion, is a tremendous loss to Sri Lanka's maritime industry," she says reflectively.

In turn, Ted has high commendation for Dhashma's contribution to SAGT's Commercial and Marketing accomplishments. "Dhashma embodies the very essence of the extraordinary value women bring to business. Patience, determination, conflict resolution, creativity, selflessness and an egoless commitment to team outcomes," he says.

"Dhashma is the mainstay in all of our brand positioning initiatives. Furthermore, her background in finance was an effective counter balance to front-end commercial negotiations ensuring sustainable and responsible contractual outcomes. Her professional disposition matched with a gregarious and engaging personality has enabled her to build very effective networks at all levels of business. She is indeed the quintessential professional for all seasons.

"SAGT is privileged to have many highly capable women from the outset of the terminal's concession. However, we need to gain the advantage of greater gender diversity across all levels of our business and this is very much one of the priorities under new CEO Romesh David."

Dhashma is the current elected Chairperson of the Chartered Institute of Logistics and Transport arm of Women in Logistics and Transport – a role she took over from the ubiquitous Women in Logistics dynamo Gayani De Alwis.

Notwithstanding her predecessor's high industry profile, Dhashma continues to carve out her own indelible imprint in furthering the interests of Sri Lanka women in the traditionally male-dominated supply chain industry.

The 'HeForShe' program in partnership with UN Women where 12 CEO statements supporting women empowerment principles were obtained from Maritime and Logistics Corporates. The 'Back 2 Work' initiative in conjunction with the world's biggest shipping line Maersk is a program which affirmatively creates opportunities for women seeking to return to employment post mid-career breaks. Typically after raising a family spanning many years or even after a short maternity break. These two partnership programs conceptualised and executed by Dhashma were commended by Women in Logistics and Transport International. Dhashma was recognised for her visionary leadership extended to WiLAT Sri Lanka, at the recently held CILT conference in Macau, Hong Kong.

Dhashma herself is currently expecting her second child and speaks well of SAGT's supportive environment for women in the workplace. Women represent close to 25% per cent of the office cadre at SAGT although it is just 12% in management. And no representation at the senior management level. However, the caliber of females in the management group are well positioned to breakthrough to the next level on merit and without need for the often contentious affirmative action as a corrective vehicle which in itself undermines the notion of equality with a scourge of tokenism.

Dhashma cites the tremendous advances in the mindset for furthering opportunities for women in the maritime industry in general, but particularly in the traditionally male-dominated waterside labour positions. The recent introduction of Sri Lanka's first-ever female gantry crane operators in the port is one such example. Other possibilities as truck drivers, security detail, engineering, port pilots and the list goes on!

In this regard, SAGT nurtures a strong internship program with several opportunities across all functional areas. The company's close engagement with universities and other tertiary-level educational institutions has produced some stellar success stories in regards to mentoring graduates to a career in the maritime, transport and logistics sector.

The company takes on interns far more in number than it can integrate into its mainstream workforce. But this is by design to facilitate a greater opportunity for many for a hands-on learning experience and subsequently enabling young emergent talent to shape their futures within the diverse areas of the broader supply-chain and logistics industry, explains Dhashma.

It can be expected for Dhashma forging a path for women into the C-level of terminal management leadership positions in the near future.