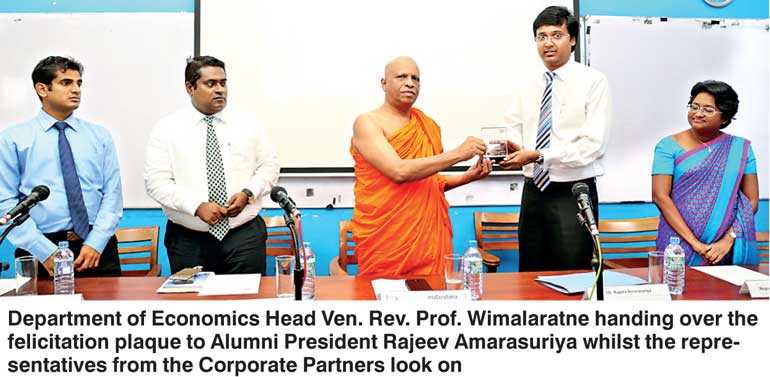 Just one month after the Alumni Association entered into a collaboration partnership with the Department of Economics of the University of Colombo to support its final year internship program, the collaboration has now secured over 100 internship opportunities in the private sector.

In recognition of the progress of this successful initiative, the Department of Economics hosted a ceremonial inauguration and felicitation recently at the Auditorium of the Department of Economics.

University of Colombo Head of the Department of Economics Ven. Rev. Prof. Wimalaratne, University of Colombo Alumni President Rajeev Amarasuriya, Department of Economics Internship Program Co-ordinator Dr. Sasini Kulathunga, Alumni Head of Administration Sumanaratne Marasinghe, representatives from the Corporate Partners Cargills Ceylon Ltd., LOLC Group and BR De Silva and Co., and many staff and students were present.

Speaking at the function, the Head of Department Rev. Prof. Wimalaratne stated that internship placements in the final year of the degree program was mandatory and was thankful for the support of the Alumni in securing internship opportunities in the private sector. The Rev. Professor went on to state that the Special Degree in Economics is now fully conducted in the English medium, and that even though there was some hesitation at the beginning, the students now appreciate the advantage of taking this course in the English medium.

The President of the University of Colombo Alumni stated that the Alumni Association had recently launched a university-wide internship programme, and this was the first formal relationship entered into, to support the Department of Economics.

He went on to state that what one gains during an undergraduate program is the necessary fundamental tools for one's career which are a sound understanding of the relevant principles, the ability to analyse, dissect and process thoughts and issues, the ability to know where to look for information and a network of friends.

It is only when you go into the outside world that you have a real opportunity to apply what you have spent three to four years learning, he went on to state.

He also spoke on the special value of the Degree in Economics and made reference to his grandfather the Late Stanley Jayawardena who armed only with a Degree in Economics from the University of Colombo went on to become the first Sri Lankan Chairman of Lever Brothers which was considered the most prestigious private sector appointment at the time.

He also stated that presently there is a dearth of good economists, and there must be more focus on developing this field, for the sustained growth and development of the country.

Private sector organisations interested in joining the internship programme are kindly requested to contact the Alumni Office at College House, University of Colombo.