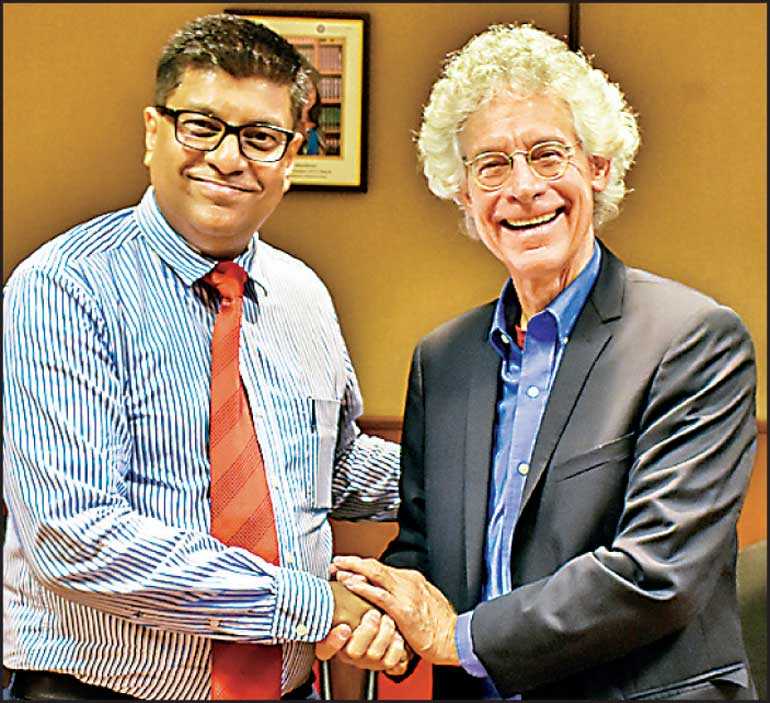 Ubiquity University Founder and CEO Jim Garrison with IIHRM MD & Chief Consultant Ranjeewa Kulantunga
---
Partnership to bring soft skills and global standard credentialing to make Sri Lankan workforce globally competitive
Ubiquity University and The Institute of Human Resource Management (IIHRM) have entered into a strategic partnership promoting the development and credentialing of essential soft skills for corporate entities across Sri Lanka.

IIHRM, now Ubiquity's preferred 'Corporate Business Development' soft skills partner, is the leading Human Resource and Organizational Development Management Consultancy House in the country. With teams of experienced consultants, IIHRM works with corporate partners to design, tailor and administer in-house training aimed at building capacities and systems in aid of corporate missions.

Ubiquity University, an accredited university designed for social impact, specialises in the development of essential soft skills that are globally recognised as the leading indicators of individual and institutional success in an increasingly complex world.

Through this strategic partnership, Ubiquity and IIHRM offer two broad services to corporate partners:

1. Soft skills development: Ubiquity and IIHRM will work in tandem with corporate partners to provide new training modules and enrich existing ones with essential content on soft skill development. These skills are applicable across all industries and geographies and include such competencies as leadership, critical thinking, creativity, collaboration, emotional intelligence, cross boundary team building, resilience and global thinking.

2. Credentialing of corporate training modules: Ubiquity will work with IIHRM and its partners to assess in-house corporate training programs and credential them with Ubiquity's certification of competence or UbiCert. UbiCerts are Global Standard Credentials that are linked to a database of tens of thousands of competencies developed by industry sectors, linked to professions and related diplomas, and used by governments across the world. UbiCerts® are benchmarked to the Australian national qualification framework, European Qualification Framework and the ASEAN qualifications framework, which include over 54,000 competencies across 334 industry sectors. Individuals who earn an UbiCert can credibly highlight their skills on the global market. These credentials also double as academic credit for those who wish to pursue higher certificates and degrees at Ubiquity.

Commenting on this partnership, Ubiquity University Founder and CEO Jim Garrison said that "Ubiquity is honoured to be in partnership with IIHRM to provide the kind of soft skills training to the corporate sector that will take companies to the next level of effectiveness. As soft skills become core competencies every company must have, HR departments become ever more critical to ensure company success."

IIHRM MD/Chief Consultant Ranjeewa Kulantunga said: "In this day and age, when global corporations turn to collaborative skills in order to transform the workforce from activity-driven to result-driven, soft skills are gaining visibility and currency in the eyes of top corporate executives more than ever before. Say Hello to 'UbiCerts'! With our aging population, organisations will increasingly continue to recruit imported labour, and this is when we will need instruments like UbiCerts, rich in cross cultural employee predictability, with global credentialing capability."

Ubiquity University and IIHRM invite all corporates to submit their training modules for credentialing. Once credentialed, all trainees (including IIHRM trainees) will be able to apply for a qualification top-up from the university retrospectively or at any time in the future.

Ubiquity University offers a number of nano, micro and trimester courses on topics of interest such as 'Leading in Disruptive Times' and 'Foundations in Critical Thinking' for those interested in strengthening their skills and resume.