Nishan Premathiratne has been nominated by the UGC to the Council of the University of Kelaniya and is one of the Council's youngest members.
The University Grants Commission (UGC) functions as the apex body of the university system in Sri Lanka.

He holds a LL.B (Hons) degree from the University of London, a BSc (Hons) degree in Human Genetics from the University of Nottingham, a Post Graduate Diploma in Intellectual Property Law.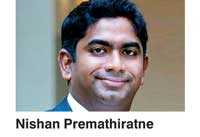 He is also an Attorney-at-Law practicing in the field of Commercial Law, Company Law, Intellectual Property Law, International Trade Law and Commercial Arbitration.

He is also sitting as an Elected Executive Committee Member of the Bar Association of Sri Lanka.

He has also served as a member of the Council of the Open University of Sri Lanka for the year 2017/2018. He is also a contributory to the World Bank doing Business Report for Sri Lanka and also has been involved in the preparation of the Laws Delays Report.

Premathiratne is the Course Coordinator for the Intellectual Property Law for the LL.B program for the last several years at the CFPS Law School and also lectures Intellectual Property Law, Contract Law, Company Law and Law on Arbitration at the Institute for the Development of Commercial Law and Practice, University of Peradeniya, Para-Legal program at Sri Lanka Law College.

The Kelaniya University Council presently comprises Prof. D.M. Semasinghe – Vice-Chancellor (Chairman), Prof. LakshmanSenevirathne – Deputy Vice-Chancellor, Prof. J.M.D. Ariyaratne, Prof. A.H.M.H. Abayarathne, Prof. N.R. de Silva,Dr. P.G. Wijayarathna, Prof. B.M. Jayawardhana, Dr. P.N.D. Fernando, Prof. R.M.P. Patric Rathnayake, Prof. S.T.B. Amunugama, Prof. D.M.A. Dissanayake, Ven. Ambanwala Gnanaloka Thero, W.M.A.S. Iddawela, Asela Kulugampitiya, Prof. S.P. Lamabadusuriya, E.P. Donnet Nandasinghe, Prithi Perera, P.M.P. Perera, Vidya Nidhi Prof. W.M.T.B. Wanninayaka, H.M.N. Warakaulle, Prof. N.A.K.P.J. Seneviratne and Prof. P.M.C. Thilakeratne.