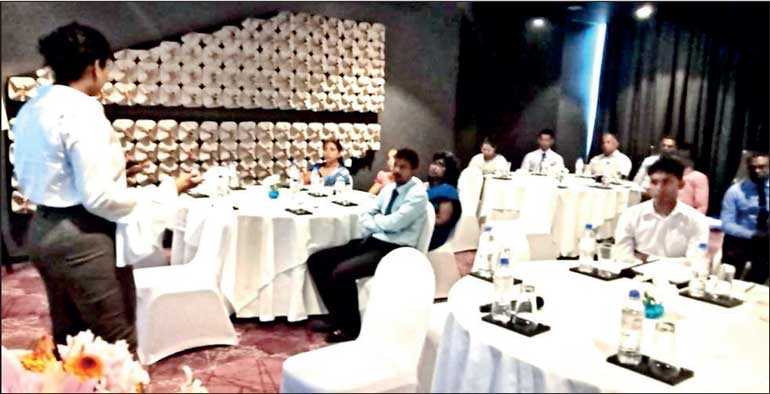 ---
A training was recently held on the topic of 'Business Excellence' on soft skills that must be acquired to excel in the modern workplace which saw a large gathering of business executives. The training was conducted by Nirmalan Nagendra, a veteran hotelier with over 40 years of experience working across international hotel chains and Anjale Jayawardena who is a marketer by profession who is passionate about creating cohesive workspaces at Movenpick Hotel on 14 January.

The session covered the areas of time management, good governance, workplace ethics, workplace communications – all aimed at creating cohesive teams to increase the productivity in the organisation. It also educated the audience on how to navigate through their corporate career by being authentic leaders, employees and team members whilst practicing transparency and honesty.

Nirmalan spoke of his experience as being a top executive of hotels, and how his authenticity has helped transform low performing teams with low morale into high performing teams who become passionate about their work which in turn has helped increase their overall productivity. He also spoke on proper time management through planning their day by prioritising their deliverables and delivering something that is 90% accurate on time rather than delivering something that is 100% accurate past its deadline as well as practices of good governance, being a leader and being empathetic.

Other topics that were discussed was work-life balance; the importance of making time for family and friends in this constantly connected world, taking time off from work, to having a happy and healthy marriage as well as how to work with integrity at work by practicing honesty, transparency and build good relationships with your team as well as others in your organisation.

When building relationships with colleagues, it is important to build authentic relationships that are built on mutual understanding, empathy and transparency. Anjale spoke on 'Working Out Loud' which was coined by John Stepper; a simple framework on how to build better relationships, create a name for yourself in your work and industry whilst also ultimately succeeding in life.

The session was explained as 'De-humanising Work' as sometimes work environments tend to become toxic, and often making the team members so focused on achieving their deliverables that they forget to be human. Aimed at helping create meaningful relationships, starting with colleagues which can also be extended to your friends and family, Working Out Loud will also help you achieve a specific goal or a set of goals you have set for both your personal and professional life.

Anjale took the audience on the 5 steps to start Working Out Loud, which is by deepening relationships, making our work visible, having a generous attitude, practicing purposeful discovery and fostering a growth mindset. She elaborated on how practicing the simple steps of Working Out Loud, she has overcome her fear of public speaking and helped her create a successful career.

Nirmalan has expertise spread across the globe through his various stints in Park Hyatt Jeddah-Marina Saudi Arabia, Le Royal Meridien Abu Dhabi, Al Aqa, Kuwait, Forte Nassau Beach Bahamas and the Exclusive Sandy Lane Hotel Barbados. He is currently a Fellow of British Association of Hospitality Accountants, the Institute of Management UK, and Fellow of the Hotel & Catering International Management Association. He is a highly result oriented professional, who believes in cohesive work environments and hiring for attitude. Nirmalan believes that team work certainly makes dream work. He was also 'The Commitment to Excellence Trainer' for Forte Hotels which is now well-recognised in the hospitality world and currently works as an independent consultant for KPMG Sri Lanka.

Anjale is a graduate in International Business, with a strong PR and marketing background. Having worked in the field of IT across both international and local organisations, she has helped transform both internal and external communications and built cohesive teams. She has previously held knowledge sessions on 'Working Out Loud' at Virtusa, and championed the practice extensively at the workplace and even been featured in a few articles from around the world. Anjale is a firm believer that organisations should focus on the wellbeing of their teams before they create solutions for customers, because she believes that a happy workplace is a great workplace. Anjale is currently attached to SLASSCOM, the Chamber for Knowledge and Innovation.