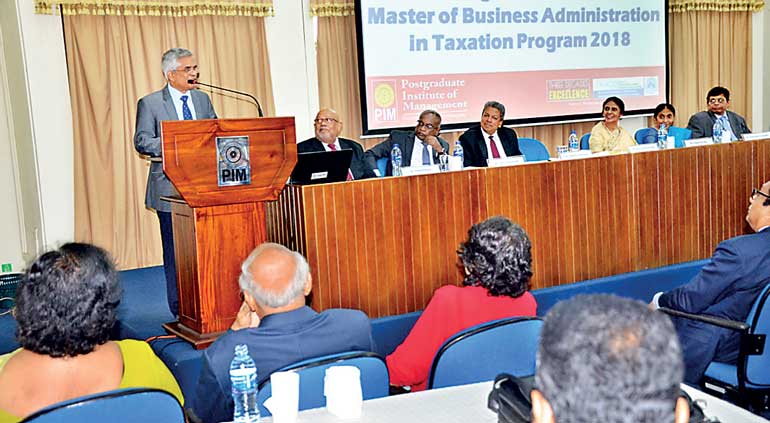 The Postgraduate Institute of Management, the Nation's Management Mentor, commenced the MBA in Taxation (MBAT) program, for the third successive batch of officers of the Inland Revenue Department on Saturday, 6 January 2018.
The authorities were convinced that MBA-T conducted for the two previous batches, for certain, added value to the affairs of the Inland Revenue Department, and enhanced its overall efficiency. The new batch comprised of 55 officers of the Inland Revenue Department.
Dr. R.H.S. Samaratunga, Secretary, Ministry of Finance and Mass Media and Secretary to the Treasury, who graced the occasion as the chief guest, presented a vivid account of the role of the Taxation Department in collecting the much needed revenue for the state. Nandun Guruge, Senior Deputy Commissioner of General of Inland Revenue, appearing as the guest of honour, on behalf of Ivan Dissanayake, Commissioner General of Inland Revenue, expressed his satisfaction over the manner in which the PIM has thus far conducted the two previous MBA-T programs.
Prof. Ajantha S. Dharmasiri, Director, PIM, in his inaugural address said that it is the PIM's duty and responsibility to develop the public sector officials, and especially those involved in the much needed revenue generation for the state. He also said that having conducted MBA-T for two previous batches the Institute is now fully geared to conduct the programme with added vigour and confidence.
Dr. Travis Perera, Senior Consultant and Member of the Board of Management, PIM, provided a presentation on the contents and conduct of the MBA-T program. The Faculty and some members of the visiting Faculty conducting the programme as well as the Senior Administrative staff of the PIM attended the ceremony. Jayantha Newunhella, Management Consultant, proposed the vote of thanks. The ceremony was compered by S. Durairatnam, Management Consultant.