Seated from left: Nilusha Ranasinghe, Nisreen Rehmanjee, Suren Rajakarier (Chairman), Nandika Buddhipala (Vice Chairman), Channa De Silva, Ruchera Jayawardena Peries Standing from left: Jehan Perinpanayagam, Thilina Ukwatte, Ayoma Peiris, Indunil Dayananda, Thumilan Sivarajah, and Dr. Dinusha Weerawardena
KPMG Sri Lanka Partner, Audit Head, and People, Learning and Development Head Suren Rajakarier, was appointed as the ACCA Sri Lanka Member Network Panel Chairman for the year 2018/ 2019, at the ACCA Annual General Meeting held recently at the JAIC Hilton in Colombo.

Rajakarier has been instrumental in carrying out a wide variety of audit, regulatory, compliance and due diligence engagements, in Sri Lanka, UK, Oman, Dubai and Maldives.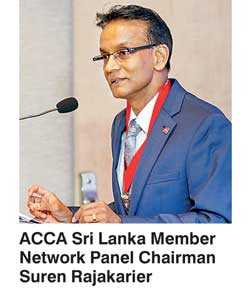 Rajakarier, an ACCA Fellow Member, was awarded the National Advocate of the Year 2018 by ACCA. In his role as Head of Learning and Development, he was instrumental in KPMG being the first firm to get the platinum status recognition as an approved employer by ACCA in 2007 for training and professional development, and in retaining this recognition with ACCA UK up to date.

In his acceptance speech, Rajakarier stated that ACCA has now reached a new landmark figure of 200,000 members. Outlining the key focus areas for ACCA in the year ahead, Rajakarier said they comprised of working on professional judgment and ethics, to fulfil the requirements of public trust, playing a positive role in fighting corruption in the accountancy profession, and in ensuring that ACCA remains in demand, through developing the skills required to help produce strategic thinking finance professionals who will drive value for businesses in the future, where transformation is key.

He further explained that ACCA has introduced a market-leading ethics and professional skills module to help support the high standard required to maintain public trust, which in turn has been instrumental in further enhancing the employability of ACCA qualified students. He noted that professional ethics, education and oversight must remain at the core of the accountancy profession, and ACCA intends to play a positive role in this arena.

The selection of the executive committee for this year were chosen through an online election handled by Baker and Tilly, one of the world's leading networks of independently owned and managed accountancy and business advisory firms.

The committee for the year 2018/2019 included Nandika Buddhipala (Vice Chairman), Nisreen Rehmanjee, Channa De Silva, Jehan Perinpanayagam and Ayoma Peiris along with four new entrants, comprising of Dr. Dinusha Weerawardena, Thilina Ukwatte, Thumilan Sivarajah and Indunil Dayananda.

ACCA Sri Lanka Business Development Manager (Employers and Members) Ruchera Jayawardena Peries presented the annual report of the year 2017/ 2018. Noteworthy achievements included celebrating the success of 3 world prize-winners, 53 local prize-winners, 4 top affiliates and 124 affiliates, and launching the Ethics and Professional Skills module at the Prize-winners' Awards Ceremony in November 2017.

Several strategic partnerships and MOU's were signed, including two new learning providers, the Icon Business School in Colombo and GBS Academy in Kandy, two new accelerate agreements with Imperial College and NSBM Green Campus, along with the continuation of agreements with the Universities of Sri Jayawardenapura, Kelaniya, Wayamba and Colombo.

ACCA awarded five new organisations with the approved employer status, namely, WIS Accountancy Ltd, Diesel & Motor Engineering PLC, Icon Business School, Hayley's Advantis Limited and Info Mate Private Limited.

Continuing professional development workshops were held on current topics of interest and value, comprising of Strategic Insights into the New IRD Act, Fighting Fraud, a CEO forum on the implications of the Belt and Road Initiative for Sri Lanka, Blending Insights, Technology & Psychology for Smart Decision Making and the Opportunities and Challenges of the Private Health Care Sector.

ACCA Sri Lanka also organised the country's very first Finance Hackathon, as well as holding their annual flagship event, the sustainability reporting awards ceremony for the 14th consecutive year.

ACCA's report compiled on "50 Drivers of Change in the Public Sector" was handed over to Minister Mangala Samaraweera by the ACCA Sri Lanka team and immediate past president of ACCA Global council Brian McEnery. Jayawardena concluded the report by thanking all members for their support.