International Migrants Day falls today
In a country where female migrant workers greatly impact its social fabric, International Migrants Day presents an opportunity to reflect on how Sri Lanka can strengthen its mechanisms to assist safe migration.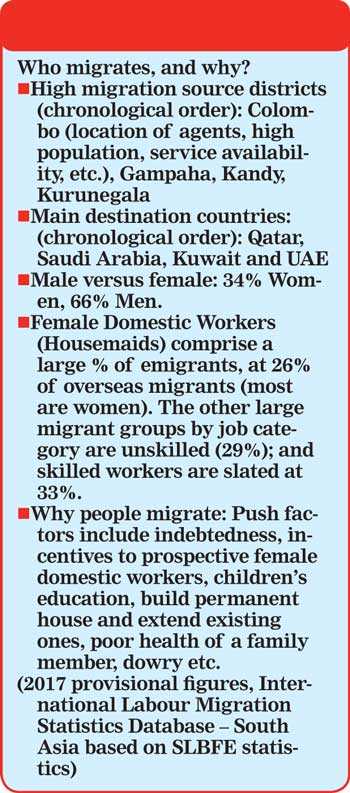 Sri Lanka's Family Background Report (FBR) was implemented in June 2013 by the Sri Lanka Bureau of Foreign Employment (SLBFE) and initially applicable to mothers with young children seeking employment abroad. A recent study undertaken by the Centre for Poverty Analysis for the International Labour Organization (ILO) in Sri Lanka examines the effects of the FBR. The study asserts that the FBR may be pushing many into undocumented and unsafe migration, exposing them to greater risk of abuse.

While there is a sharp drop in the number of documented women migrant workers, village-level reports indicate that an increasing number of women evade the FBR by migrating for work through informal channels.

Invisible and unprotected

Workers who are not registered with the SLBFE fall outside the protection of that institution and are susceptible to forced labour, trafficking as well as unsafe and exploitative living and working conditions. They are left vulnerable and become invisible with little or no means of protection before, during and after their departure from Sri Lanka.

Recruitment brokers often facilitate this process. These 'sub-agents' offer other avenues of migration which side-step the heavy documentation and delays in processing applications in the FBR regulation.

Welfare of migrant workers and their families

The research also reveals the costs of administration of the FBR regulation. Public officers are over-burdened with implementing the FBR regulation. The Foreign Employment Development Officers (FEDOs), in particular, side-line their other important responsibilities on the welfare of migrant workers and their families in order to carry out FBR-related activities. Senior officials at National level are required to sit at weekly time-consuming FBR Appeals Committee meetings

The report highlights the glaring absence of follow-up visits to the families of female migrant workers to ensure that children receive adequate care after the registered departure of the mother. Instead, FEDOs are policing the FBR regulation, by investigating the information provided by the woman applicant, violating her right to privacy, and making subjective value judgments on the families and the care arrangements of the children who are left behind.

The FBR also undermines the role that the father can play in children's upbringing. By focusing on women, and especially lower-skilled women, the gender and class biases of the FBR are transparent: male migrant workers and workers at professional and higher skill levels are outside this monitoring mechanism.

Revising the FBR

The CEPA study for the ILO identifies alternatives to the FBR such as a self-reporting tool and Family Care Plan for all migrant workers at all skill levels. It also recommends a data collection and documentation system through recruitment agencies (or other state entities) to free up the time and resources of FEDOs to facilitate safe migration and support activities for migrant workers and their family members.


Stricter guidelines on recruitment agents (with loss of license for non-compliance) would ensure more reliable information and respect for safe and legal labour migration.

Client-oriented pre-migration decision-making, advisory and counselling sessions for women and men considering migrating for employment would be helpful in ensuring that informed decisions are made, and in consultation with family members where appropriate.

In August 2018, it was announced that the FBR will be revised based on recommendations given by a five-member Ministerial Sub-committee of the Cabinet. In its review of the regulation, it is hoped that the government provides an alternative that promotes safe and responsible labour migration, protects the left-behind children and family of all migrant workers and respects the right to equality and non-discrimination in Sri Lanka's constitution and international obligations.