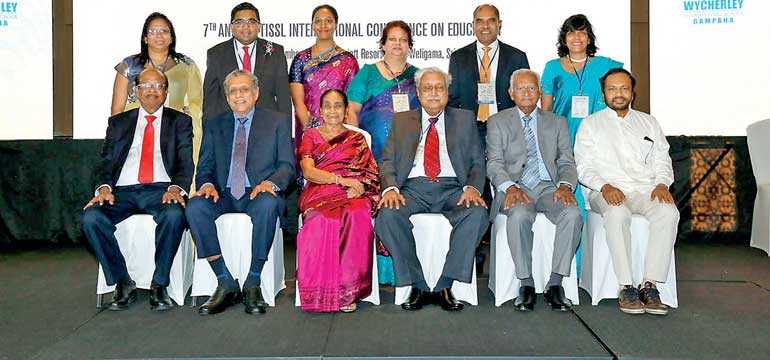 The winners of the 'Life Time Achievement award for the year 2019' with TISSL EXCO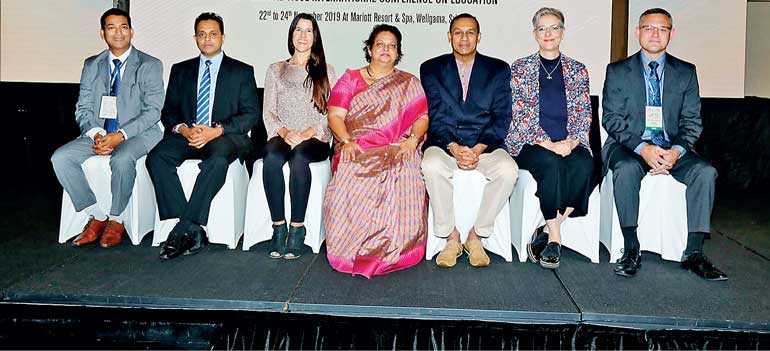 The six eminent foreign/local speakers with TISSL Chairperson and Alethea International School Executive Director Kumari Hapugalle Perera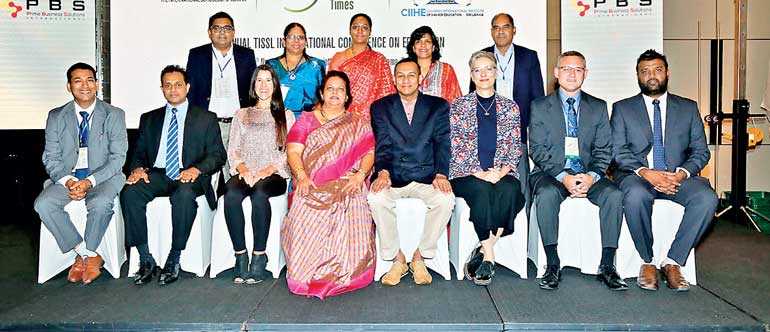 The six eminent foreign/local speakers with EXCO TISSL
Six outstanding personalities in Education awarded TISSL's Lifetime Achievement Award
The seventh Annual International The International Schools of Sri Lanka (TISSL) Conference for Heads of Schools, the only annual conference of this nature in Sri Lanka, concluded successfully at Marriot Resort and Spa Hotel, Weligama in November.

This year's event marked the highest participation to date with a record number of over 280 delegates attending the event, representing education service providers and heads of schools from Government, semi-Government and international schools/institutions from all over Sri Lanka.

The event which was held under the theme 'Leading and Learning through turbulent times', was an attempt to keep abreast with the latest educational developments, trends and practices. Whereby an eminent panel of speakers attended the event to educate the delegates.

As such, it provided a window for heads and decision-makers from all TISSL affiliated schools as well as non-member international schools, State schools and private schools in the region to elevate their existing practices and also to exchange best practices.

"This year's annual conference can be marked undoubtedly as one of the most successful TISSL conferences since its inception in the year 2013. It was an event that catered to one of the most thriving issues of the present-day context, circulating around turbulences that may occur as results of both external and internal factors.

"Be it natural disasters, acts of terrorism, or other issues such as changes technological and geopolitical landscape or internal factors such as significant changes in company strategy or deteriorating performance," stated TISSL Chairperson and Alethea International School Executive Director Kumari Hapugalle Perera.

"The highlight of this year's event was the first-ever TISSL's Lifetime Achievement Awards, accoladed to six eminent professionals selected by a renowned judge panel to recognise his dedication to alter the course of education in Sri Lanka," added Kumari Hapugalle Perera.

She further added: "This award was intended to honour outstanding personalities in education who have dedicated their lives to the enhancement of schools in Sri Lanka with their pioneering spirit, demonstrated innovation and selfless dedication and commitment to Education."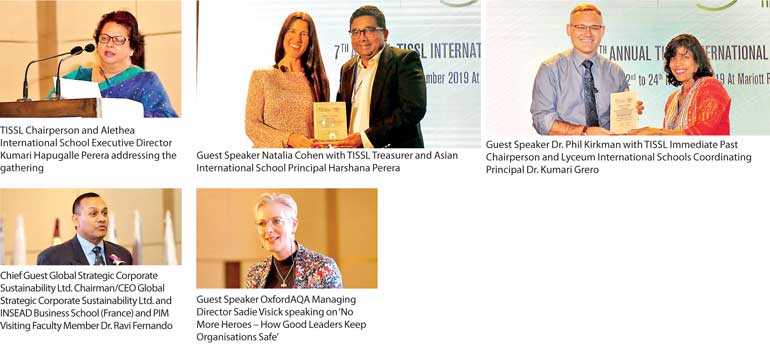 "I am much obliged to Dr. Harsha Alles, Dr. Kumari Grero, Malithi Jayatissa, Harshana Perera and Chrishanthi Archchige who supported myself as the Chairperson who internalised the award that would become a tradition in the upcoming annual conferences in future," she said.

The winners of the 'Life Time Achievement Award for the year 2019' included Gateway College Kandy Founding Principal Asoka Banda Herath, Asian International School Founder Dr. Goolbai Gunasekara, Royal Institute Founder G.T. Bandara, Wycherley International School Principal Kingsley Jayasinghe, Lyceum International School Network Founder Dr. Mohan Lal Grero, and Gateway Schools Founding Member Rohini Alles. In addition to the six LTA award winners, renowned educationalist Dr. Frank Jayasinghe was nominated LTAA award for his contribution to TISSL.

They were judged by Educator, Broadcaster and Social Activist Deshabandu Jezima Ismail, S. Thomas' Preparatory School former Headmaster (1995 – December 2014) N.Y. Casie Chetty and Chartered Institute of Marketing Country Head (Sri Lanka and The Maldives) Onalie Dissanayake.

The event's keynote address was made by Chief Guest Global Strategic Corporate Sustainability Ltd. Chairman/CEO Global Strategic Corporate Sustainability Ltd. and INSEAD Business School (France) and PIM Visiting Faculty Member Dr. Ravi Fernando on the theme 'Building Global Mind-sets in Turbulent Times'.

Colombo International Institute of Higher Education (CIIHE) and Colombo Institute of Research & Psychology (CIRP) Board of Governors Chair Dr. David Ashall attended as the Guest of Honour addressed on 'Challenges in International Higher Education and Future of Transnational Education'.

Six eminent foreign/local speakers from around the world were panellists at the event, in keeping with TISSL commitment to bring global best practices of world class education to the Sri Lankan classrooms. TEDx Speaker, Education Futurist, Patent Applicant in India and US, Rapid Prototyper and Pearson Global Market New Product and Solutions Vice President Ujjwal Singh was sponsored by Pearson Education as their Guest Speaker spoke on 'Learn – Unlearn – Relearn; The illiterate of the 21st century will not be those who cannot read and write, but those who cannot learn, unlearn, and relearn'.

OxfordAQA Managing Director Sadie Visick was the Guest Speaker sponsored by the Oxford University Press addressed on 'No More Heroes – How Good Leaders Keep Organisations Safe', CIRP Chair and CIIHE Chairman Dr. Darshan Perera was invited by Colombo International Institute of Higher Education as their Guest Speaker and addressed on 'Psychological insights for Academic Administrators on helping psychological wellbeing of students at a time of increased social exposure and emotional isolation' while CAIE and CUP hosted Principal Lecturer and Anglia Ruskin University School of Education Head of Education Partnerships Dr. Phil Kirkman spoke on 'Transforming educational leadership through turbulence: lessons from leading international education MBAs' .

Coxless Crew Team Member, Inspirational Speaker and Mindset Natalia Cohen, hosted by British Council delivered a stimulating secession on 'How to have a positive mindset during turbulent times? The power of diversity within a team and the importance of values and transparency: Losing Sight of Shore'. Final speaker Deshamanya Dr. Rohantha Athukorala addressed on 'Cutting edge marketing with Artificial Intelligence (AI)'.

Conference Partner and Platinum Sponsor TISSL Conference on Education for Heads were CIIHE School of Psychology – Colombo Institute of Research & Psychology. The Gold Sponsors were Cambridge Assessment International Examinations together with Cambridge University Press, Oxford University Press and Pearson Edexcel who will each host an international speaker to address the conference based on the theme.

In addition, British Council has joined in as a Silver Sponsor while providing a distinguish speaker for the event. The other silver sponsors are Business Management School, Emergence Education Consultants Ltd., Horizon Campus, Jeya Book Center, Monash University, Nations Trust Bank, Prime Business Solutions, Star Publishing, Softlogic Life Insurance PLC and South Asian Technologies. Furthermore, Create Labs – Singapore, CodeGen International Ltd., Informatics Institute of Technology and St. Aidan's Anglican Girls' School – Australia will also join hands as Bronze Sponsors for the event.

TISSL formed in 2003, brings together the heads of the foremost international schools in Sri Lanka to serve the impetus of up scaling and elevating the education system to keep up with global education standards. TISSL also focuses on exchanging innovative teaching and learning methodologies practiced among the member schools and increasing collaboration within schools for mutual benefit.