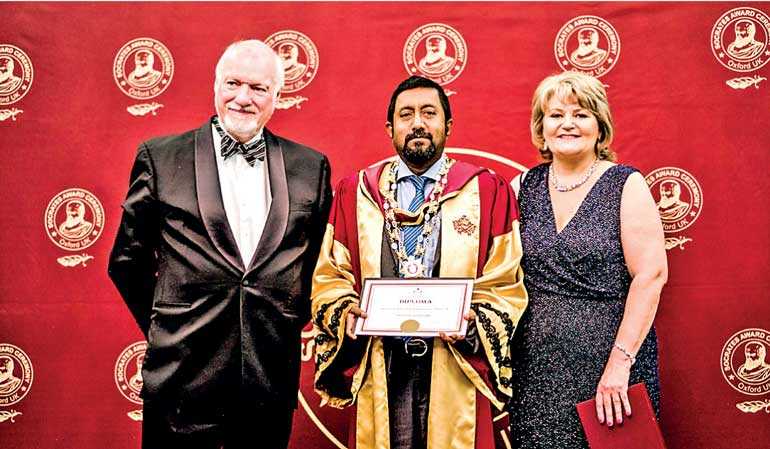 A. Sandeepa Wijesinghe receiving the title from Prof. John W.A. Netting, CEO of the EBA, Oxford, UK and Christina Briggs, President of 'The Global Club of Leaders' UK
Academic Union of Oxford, UK, presented the title of Honorary Professor of the Academic Union (AU) of Oxford, UK to A. Sandeepa Wijesinghe, at a ceremony held at the Institute of Directors, Pall Mall Street, London, United Kingdom, recently.

This was a great achievement by a fellow Sri Lankan, who is a young entrepreneur in the manufacturing sector.

Top professionals from more than 40 countries were invited and participated for the Achievements Forum 2018, ceremony held at Institute of Directors, London, UK.

A. Sandeepa Wijesinghe is the Chairman/CEO of Omnipro Industries Ltd. and Nevorp Corporation Ltd. He has held many senior corporate management positions in private sector, including a multinational giant in IT sector. He was a member of the board of management of Sustainable Energy Authority of Sri Lanka. He has won International Star Award in Gold Category in Geneva, Switzerland in 2015 and European Quality Achievements Gold Award in 2017 in London, UK.

Sandeepa Wijesinghe holds a Special Degree in Aircraft Construction and Rocketry from Ufa State Aviation Technical University, Ufa, Russia and holds a Diploma in Corporate Law and Certificate in Senior Corporate Management Leadership, awarded by AOTS Japan. He is an old boy of D. S. Senanayake College, Colombo 07.

The Academic Union, Oxford (AU) is an international community of academic association of acclaimed academics, professors, scientists, education managers from around the globe. The Club of Rectors of Europe (CRE) is the elite division of AU for University rectors, vice-chancellors and senior staff for improving educational programs and expanding international and multicultural relations. AU support cooperation between education, science and business for creation and diffusion of innovations of the XXI century and pursue the ideals of Academic Excellence, Practical Implementation of Scientific Research Results and its accessibility and are committed to disseminating these core values through its worldwide community.