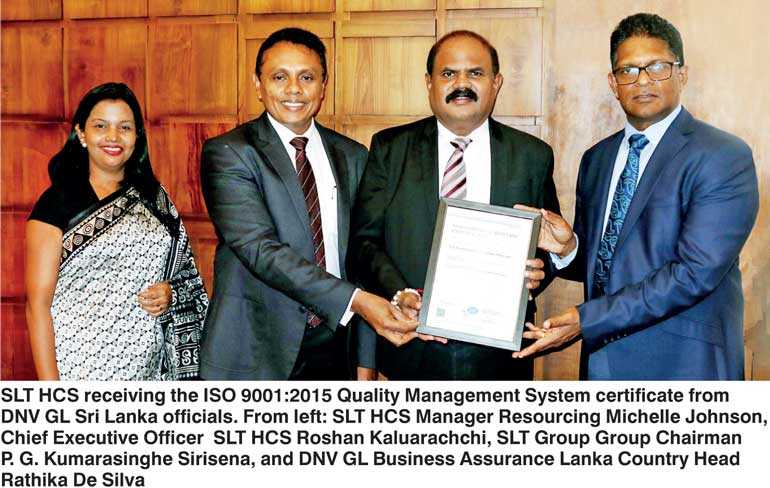 SLT Human Capital Solutions Ltd. (HCS) broke new ground recently when it achieved the ISO 9001:2015 Quality Management System certification. The award recognises HCS's record of providing unrivalled total HR solutions, reinforcing its commitment to excellence in client satisfaction, quality service and continuous business improvement.

As the first Sri Lankan HR outsourcing organisation to successfully transition from its predecessor ISO 9001:2008 to the new international quality management (QM) standard, HCS demonstrates a perfect alignment to its core values of client-centricity, innovation, expertise and integrity.

"As leaders in the industry, we are always looking to add value to existing business and engage in new initiatives. STL HCS's lives up to the standard of pursuing continuous improvement and fits into the forward-thinking culture," noted SLT Group Chairman P. G. Kumarasinghe Sirisena.

"We take pride in this new accomplishment. The achievement of ISO 9001:2015 strengthens and supports our strategy as we work hard to ensure our systems meet the very highest international standards for our clients," added SLT Human Capital Solutions Chief Executive Officer Roshan Kaluarachchi.

ISO 9001 is recognised as the world's leading standard for Quality Management Systems. Based on a number of principles, including excellent customer focus, strong leadership engagement, improved effectiveness of internal processes, and continual improvement, it is awarded to organisations who achieve high standards in a strategic and risk-based approach to quality management and consistency of services.

"DNV GL Sri Lanka is delighted to confirm that SLT Human Capitals Solutions Ltd. conforms to the Quality Management System standard, certified for ISO 9001:2015. During our assessments over the years, the professional standards we have witnessed at SLT HCS have been impressive and are known to consistently strive to extend exceptional services to its clients. We are confident that SLT HCS has the potential to be the benchmark in its sector in the South Asian region. We wish them well in their journey," said Det Norske Veritas GL Sri Lanka Country Head Rathika de Silva.

The ISO 9000 family addresses various aspects of quality management and consists of some of ISO's best known standards. The standards provide guidance and tools for companies and organisations who want to ensure that their products and services consistently meet customer's requirements, and that quality is consistently improved.

ISO 9001:2015 sets out the criteria for a quality management system based on a number of principles, including a strong customer focus, the motivation and implication of top management, the process approach, and continual improvement. Using ISO 9001:2015 helps organisations ensure that customers receive consistent, good quality products and services, which in turn brings many business benefits.

"We are delighted to have successfully transitioned to this new standard, which has been a real team effort by all our staff. Quality and client satisfaction has always been at the core of who we are. This achievement shows that we work hard to constantly improve our quality control systems and that our guidelines and procedures to ensure that quality and integrity is never compromised. We firmly believe that this is a cornerstone towards the continued strategic growth and development of the organisation in a changing marketplace," Kaluarachchi noted.