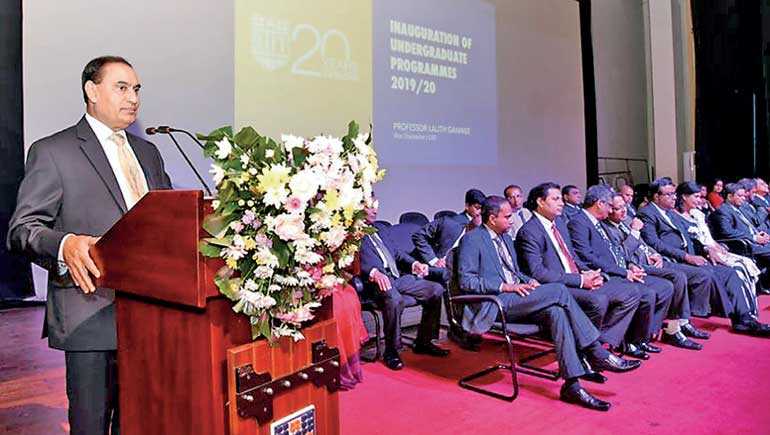 Welcome Speech by Professor Lalith Gamage at the SLIIT 2019 2020 Inauguration Ceremony

SLIIT 2019 2020 Inauguration Ceremony
---
SLIIT, the pioneering and largest degree awarding Institute in Sri Lanka, recently held its 2020 inauguration ceremony for the new intake of students as they begin another important academic chapter in their lives.

The ceremony was held at the Main Auditorium, SLIIT Malabe Campus with 800 students attending the event.

The new students were introduced to Professor Lakshman Ratnayake, Chancellor and Chairman of SLIIT and Professor Gamage. They welcomed and addressed the students.

In attendance were SLIIT's eminent senior academics and senior management. The Deans of the respective faculties also addressed the students, in addition to Yashas Mallawarachchi, Director Academic Affairs. The orientation program for the new students commenced early November 2019.

"It gives me immense pleasure to welcome you all to the Inauguration ceremony of the year 2020 Intake. As you all set out on the incredible journey that will help to shape your future career, we want all of you to know that the entire SLIIT community is here to support, sustain, and encourage you as you commit to enhance your knowledge and reach greater heights," noted Mallawarachchi.

Today, SLIIT is recognised as the nation's largest and one of the most prestigious non-state degree- awarding Institutes, having to-date produced over 27,000 successful professionals.

Over the past two decades SLIIT has been rooted in its commitment to support educational excellence, creating an environment for students to gain vital skills thus contributing towards shaping the national economy and inspiring graduates to make a difference on a global scale.

Among SLIIT's main achievements has been the ability to provide students a holistic education, transforming them into professionals with a wider range of employability skills vital for the modern workplace.