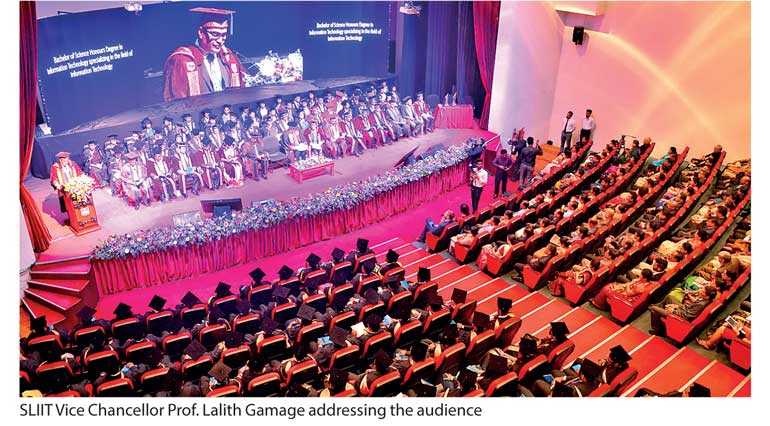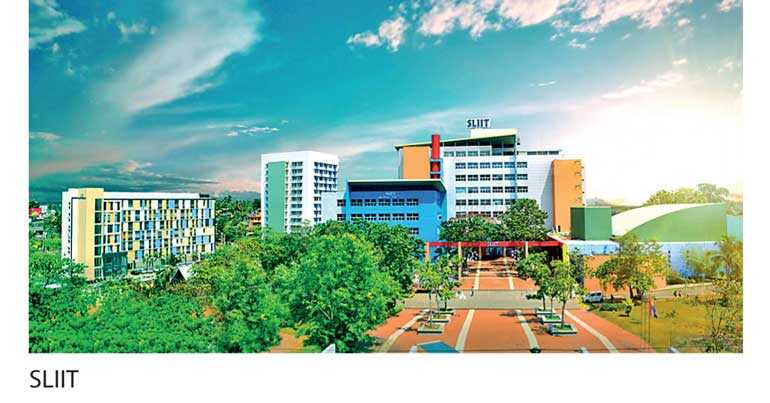 SLIIT, the largest degree awarding institute in Sri Lanka recently celebrated yet another successful convocation with over 300 graduates receiving degrees.
The convocation ceremony, held at SLIIT's campus auditorium in Malabe, presented graduands with Bachelors and Masters Degrees in Information Technology, Engineering, Architecture and Business Management.
The event held across two sessions, was graced by eminent personalities. The Chief Guest for the occasion was Bill Rammell, Vice Chancellor, University of Bedfordshire. Prof. Peter Byers, Pro Vice Chancellor (Education), Liverpool John Moore University (LJMU), Prof. Ahmed Al-Shamma'a, Executive Dean also from LJMU and Prof. Kevin Fynn, Head, School of Electrical Engineering, Curtin University, Perth, Australia graced the occasion.
Prof. Lakshman Rathnayake, Chancellor, Prof. Lalith Gamage, Vice Chancellor, and other Board and Faculty members represented SLIIT.
Speaking on the occasion, Vice Chancellor Prof. Lalith Gamage said, "I congratulate all new graduates for their hard work and tremendous achievement to-date. To be awarded Postgraduate and Undergraduate qualifications entail dedicated work and a significant step in education. I encourage you to make the most of your qualification and through your chosen profession contribute to the community looking to lead, to re-imagine, forging ahead and aspire to greater heights."
During the first Convocation session, 162 Degrees were presented to students of which three received the Bachelor of Science (Computing) Software Engineering from Curtin University, Australia and nine were conferred with Bachelor of Science in Architecture from LJMU.
At the second session of the Convocation 169 students were recognised. 68 students received the Bachelor of Science Degree in Information Technology from the SLIIT Academy while several students graduated from the prestigious Sheffield Hallam University (SHU) United Kingdom. This included being conferred the Master of Science in Telecommunication and Electronic Engineering, Master of Science in Supply Chain and Logistic Management and Post Graduate Diploma in Telecommunication and Electronic Engineering.
A highlight of the September 2018 Convocation was the awarding of special Best Performance Awards. A total of eight students received these accolades.
Awards were presented for Best Performance in Bachelor of Business Administration Special Honours Degree specialising in the field of Accounting and Finance of the Faculty of Business – Uswatta Liyanage Dushan Udayanga Perera.
Valantine Gunasekara memorial award for the Best CDP Project in Bachelor of Science Honours Degree in Architecture of the Liverpool John Moores University sponsored by Suchith Mohotti Associates Ltd. – Hewa Ralalage Lahiru Pamodya Padmasiri
Professor Nimal De Silva Gold Medal for the Best Overall Performance in the Bachelor of Science Honours Degree in Architecture of the Liverpool John Moores University – Ranjaka Kalhara Hettiarachchi.
Best Performance Awards were also presented to Kuruwita Kankanamge Don Iyantha Poornima Sirisoma for Masters in Information Systems, Gurunnehele Gedara Eranda Priyadarshana Gunasena for Masters in Information Technology and Sriendra Deshan Ilangakoon for Masters IT in Information Technology (Cyber Security Specialisation).
The University of Bedfordshire Best Performer Awards were presented to Malinda Ranesh Dehsapriya for BSc (Hons) Computer Science and Software Engineering and Ishani Anuradha Wijewickrama for Best Performer Award for BA (Hons) Business Administration.