Ruchith Liyanage, Head of Business Process Re-Engineering at Seylan Bank was awarded with the internationally acclaimed Lean Six Sigma Black Belt Certification at the recently concluded organisational excellence and Lean Six Sigma Conference, placing Seylan Bank alongside international brands of excellence such as General Electric, Sony, Toshiba and 3M that adopts lean six sigma practices and methodologies to improve process efficiency and customer experience.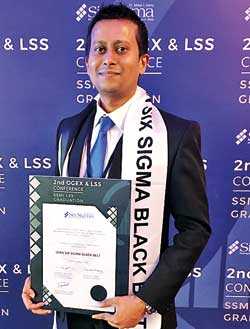 Ruchith Liyanage
The Lean Six Sigma Black Belt accreditation is provided by the Six Sigma Management Institute (SSMI) which was founded by late Dr. Mikel J. Harry who was the principal architect of Six Sigma, the certification is awarded to individuals with a passion and drive to improve organisational processes with structured problem solving tools and techniques. Ruchith marked history for Seylan Bank on a global level with this achievement, placing Seylan at the pinnacle of international academic success.

Sharing his thoughts on the achievement, Head of Business Process Re-Engineering Ruchith Liyanage said, "I am extremely proud of this achievement, joining Seylan in 2018, my target was to amplify operational excellence with new knowledge and practices, this achievement empowers me to execute that plan effectively within the organisation and be a part of its journey towards success. I wish to thank Seylan Bank for always supporting me in achieving my goals and helping me reach this milestone."

As the bank with a heart that believes in empowering its employees towards bigger and better things and career achievements, Seylan hopes to expand the operational excellence program with this accreditation to start certifying Lean Six Sigma Green Belts from next year, in addition to the existing Yellow Belt certification. This expansion is expected to yield in enhanced efficiency and cost reductions to the Bank.

Seylan Bank will continue to support its staff to take on more improvement projects going forward, to identify and eliminate non-value adding activities from the current process and accomplish more cost savings, which is part of the Bank's Strategic Plan towards success.